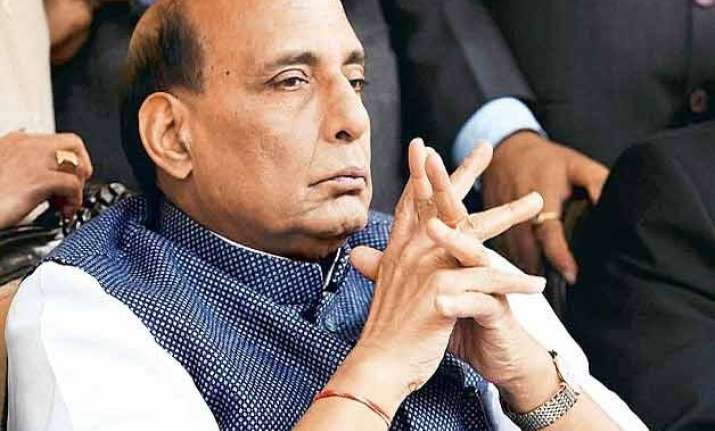 Chintagufa (Chhattisgarh):  Describing Naxals as obstacle to development, Union Home Minister Rajnath Singh today said violence is not the way to express grievances and the Centre was ready for "any tough stand" to ensure peace.  
Singh, who is the first Union Home Minister to visit this CRPF camp located in the dense forests of Bastar, assured the security forces full support of the central government in their endeavour.
"You are fighting for the country and you will win. We are all solidly behind you," he said addressing jawans of the paramilitary force here.
This inaccessible part of Chhattisgarh's Sukma district is considered to be the den of the CPI(Maoists) and security forces have lost at least 200 personnel in the last five years due to the violence perpetrated by the rebels.  
Inaugurating a "fortified" police station at Dornapal in the same district, the Home Minister said there is no place for bloodshed in a democracy and asked the Maoists to shun violence.
"It is quite natural for someone to have grievances in a democracy. But there are many ways to express the grievances.  Violence is not the way, nor it is acceptable," Singh said.  
The Home Minister said the Narendra Modi government's sole motto is development and it is ready to overcome all difficulties to achieve this goal.
"There should be peace and development. We are ready to take any tough stand for bringing peace and development," he said.
Earlier, addressing a public rally at Sukma, Singh said that the youth of the state is capable to compete with anyone and they should be given a chance.
"I want to appeal to the people of Sukma to facilitate their sons and daughters to join the mainstream. They can easily challenge those who are from metros like Mumbai, Kolkata or Bangalore. There are no dearths of talents. They just need the opportunities," he said.
During the tour, the Home Minister visited a vocational training centre, a public service centre and a special school for children.
He hailed the Raman Singh government for taking all round development initiatives in Sukma district, which is considered one of the most backward districts of the country.