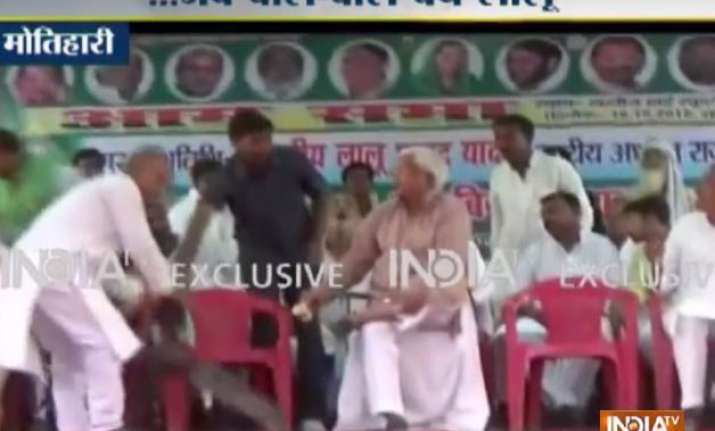 New Delhi: Rashtriya Janata Dal Chief Lalu Prasad Yadav had a narrow escape during an election rally today when a ceiling fan fell on the veteran politician.
The incident took place in a rally at Motihari on Friday; Lalu was still to address the crowd when a ceiling fan fell on him.
In a video, exclusively accessed by India TV, Lalu could be seen asking the party workers to fix a ceiling fan which was precariously hanging on the stage.
Just when an announcer was calling for an electrician to fix it, another fan fell on Lalu's hand.
The RJD chief, who escaped with minor injuries, stayed put at the dais and later addressed the election meeting.
Watch the video here:
He was campaigning for RJD candidate Binod Shrivastava contesting from Motihari seat.
Later, addressing the meeting, Prasad came down heavily on the organisers and the electrician for improper arrangement.
He jokingly told the crowd that he enjoyed blessings of Goddess 'Sherawali' (Durga) and hence no harm could happen to him.
Prasad met another accident just two days ago at Arwal when a portion of the dais, put up for an election meeting, collapsed due to overloading. He was unhurt.