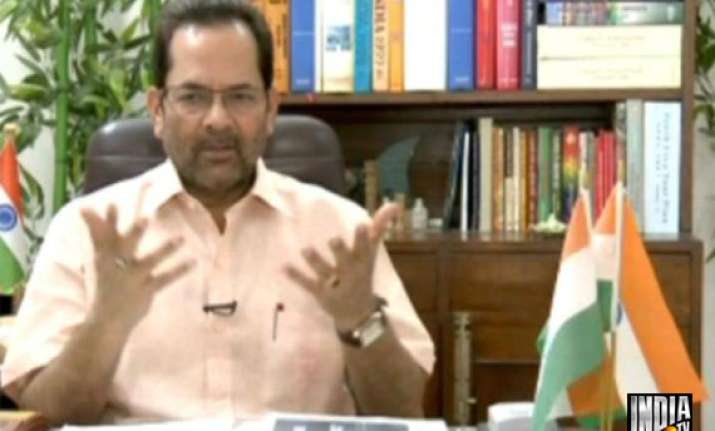 New Delhi, Jun 14: The BJP vice-president Mukhtar Abbas Naqvi is of the opinion that the Congress party is deliberately playing politics over 'dead bodies' in Chhattisgarh. Naqvi rues the fact that instead of joining hands against Naxals, Congress is busy with political machinations.
In an exclusive interview with
www.indiatvnews.com
, Naqvi  said that today Narendra Modi is the only OBC leader who has a national identity and acceptability.
Naqvi answered questions on a number of issues ranging from Naxal attack in Chhattisgarh to Modi's candidature for PM:
Q: Congress is demanding the resignation of Raman Singh after the Chhattisgarh massacre. Why he should not resign on moral grounds?Naqvi:
Congress is playing politics over  'dead bodies' in Chhattisgarh. There should be no politics on Maoist attacks in Chhattisgarh, Andhra Pradesh, West Bengal and other parts of the country.  This is an issue that is related to national and internal security.  All political parties and the government should join hands and fight the Maoists together.  If you remember correctly then these Maoists have killed around 300 innocent people in last 6 months. Almost 1800 security personnel have been killed. In West Midnapore of West Bengal, a train was blown off by these Maoists recently and more than 100 children and women were killed. Instead of doing self introspection, Congress is playing politics on this.
Q:  But the Congress is alleging that your government's entire focus was on Raman Singh's 'Vikas Yatra' and adequate security was not provided to Congress party's 'Parivartan Yatra'.Naqvi:
What is adequate security? Was adequate security not given to Indira Gandhi and Rajiv Gandhi? When the terrorists get the feeling that a friendly government is in power then they are emboldened to indulge in such acts.  You need a proper system in place to check the recurrence of such acts. Now this UPA government allowed POTA to lapse and continued with the problematic IMDT act. Today Naxalism, Maoism and terrorism are the two sides of the same coin.