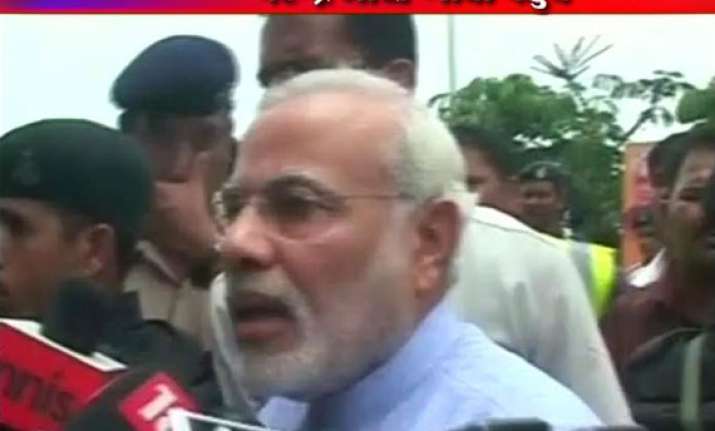 New Delhi, June 7: In what a Congress leader made a tongue-in-cheek comment about Modi fever, the BJP's tallest leader L K Advani decided to skip the first day of the party's Goa conclave citing ill-health as the reason.
"If BJP leaders get ill because of Narendra Modi, think of what will happen to the country because of Modi", said Congress leader Rashid Alvi.
But, BJP president Rajnath Singh, who arrived in Goa, told mediapersons to smoothe ruffled feathers that he had himself requested Advani to take rest today and join the BJP meet from tomorrow.
BJP's acerbic leader M. Venkaiah Naidu made wry comments about the media saying that it was reading too much into the party leaders' illness. "You may have you own deadline, we follow our own line", he commented.
At the Panaji airport, there was a music band in attendance, as Gujarat chief minister Narendra Modi arrived to attend the BJP meet.  A large crowd of BJP workers gathered to welcome Modi. Goa chief minister
Manohar Parrikar
himself was present with his supporters to welcome whom he had called "the face of BJP for the 2014 elections".
The entire city of Panaji has been plastered with posters of Narendra Modi on the occasion of the BJP national executive meet. Party leaders said, Manohar Parrikar personally ensured that Modi get a huge welcome in Goa.
On arrival at Panaji airport, Modi made a single remark expressing his grief over the death of Finance Minister P. Chidambaram's mother's death. "I pray to God to see that her soul rests in peace", said Modi, and walked away, refusing to take questions about the shenanigans going on inside the BJP.