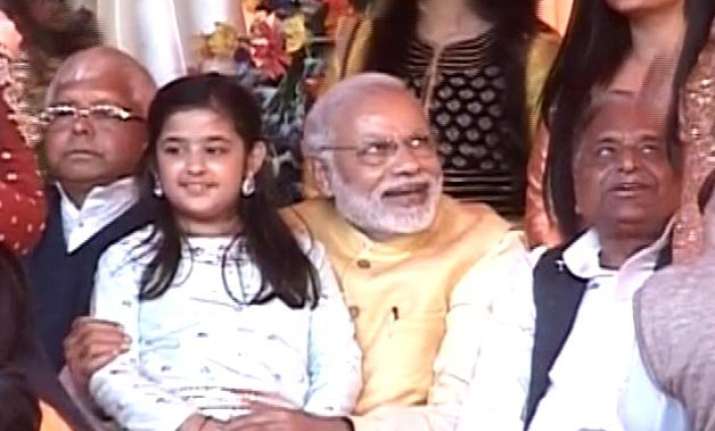 New Delhi: Prime Minister Narendra Modi reached Safai to attend the pre-wedding ceremony of Samajwadi Party supremo Mulayam Singh Yadav's grandnephew.
Tej Pratap, grandnephew of Mulayam Singh, is marrying Raj Lakshmi, the daughter of Rashtriya Janata Dal chief Lalu Prasad. Both the families have already reached Saifai where the 'tilak' ceremony is going on.
Modi's one hour-long programme in Saifai is his first visit to the Yadav belt, seems to have been made necessary because of nine ordinances that need the Opposition's support in Rajya Sabha for their enactment.
Saifai village, some 25 km from Etawah, is buzzing with frantic activity for the ceremony and where mouthwatering dishes like bedai, baati-chokha and halwa soaked in desi ghee will be served.
A team from the Prime Minister's Special Protection Group (SPG) has already visited Saifai to asses the security scenario, a police official said, adding a rehearsal with an Indian Air Force (IAF) plane landing has also been done at the village air strip.
PM first flew to Agra and from there he headed toward Safai. Other political invitees expected to reach Saifai are Andhra Pradesh Chief Minister Chandrababu Naidu, Janata Dal (Secular) chief and former Prime Minister Deve Gowda and Uttar Pradesh Governor Ram Naik.
Also flying down to Saifai on Saturday are a string of Bollywood stars, singers, politicians, state and union cabinet ministers, chief ministers of other states and bureaucrats.
Special chefs camped in the native village of the Yadavs, offering mouth watering dishes which include Gujarati food, traditional UP and Bihari food and also cuisine tailormade for the Bollywood stars.