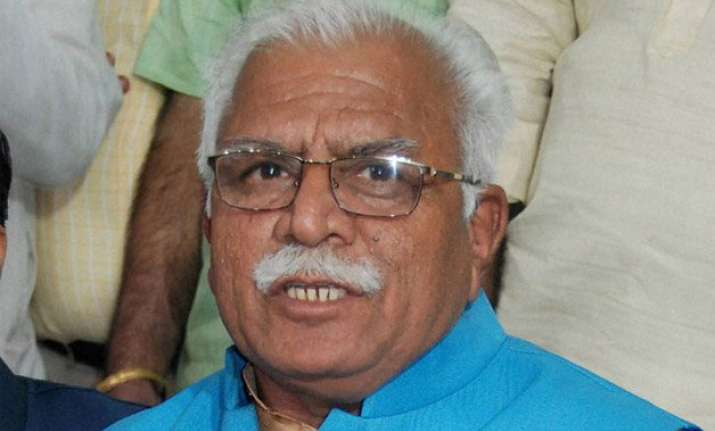 New Delhi: Stoking a controversy, Haryana Chief Minister Manohar Lal Khattar said that Muslims can live in India but they will have to give up eating beef.
"Muslim rahein, magar is desh mein beef khaana chhodna hi hoga unko. Yahan ki manyata hai gau (Muslims can continue to live here, but they will have to give up eating beef. The cow is an article of faith here)," Khattar told Indian Express.
"They can be Muslim even after they stop eating beef, can't they? It is written nowhere that Muslims have to eat beef, not is it written anywhere in Christianity that they have to eat beef," he said.
Khattar further said that the Bhagvad Gita and Saraswati are articles of faith in the Hindu-majority country and that the minorities must not violate their religious beliefs.
The BJP government in Haryana, which completes one year in office later this month, Khattar said, is doing good work and needs to be given time before people start passing judgement on its functioning.
He counted the Haryana Gauvansh Sanrakshan and Gausamvardhan legislation as one of the achievements of his one-year-old government.
On Dadri lynching, he said that 'the incident of killing a 50-year-old man was a result of a misunderstanding'.
The 'both sides' had committed wrongs, he said, adding that 'it should not have happened'.
"The victim made a comment about the cow hurting sentiments of people. I say that attacking and killing the person was also wrong. Those who were responsible for it could be prosecuted under several sections of the law," he said.
The 61-year-old leader said that 'Democracy has freedoms, but those freedoms have limitation. Eating beef hurts the sentiments of another community, even constitutionally you cannot do this'.
"The Constitution says you cannot do something that offends me, I cannot do something that offends you," he said.
Meanwhile, OSD to Khattar, Jawahar Yadav said that the newspaper misquoted the Chief Minister saying, "Our CM didnt say anything like this, all he said was we should respect everyone. The newspaper which has posted this news piece has tried to put words in Haryana CM's mouth."