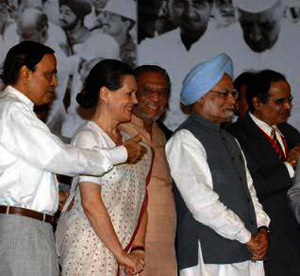 In 1977, he was elected Mayor of Mumbai with Shiv Sena's support.
Murli was one such politician who shared cordial relations with politicians across party lines. He first contested the Lok Sabha polls from Mumbai South constituency in 1980 but lost to the Janata Party's Ratansingh Rajda.
Later he went on to defeat BJP's Jayawantiben Mehta by a huge margin.
Following this victory he managed to retain his seat in 1989 and 1991. But in 1996 and 1999, he lost it to BJP candidate whom he had defeated - Jayawantiben Mehta.
In 2004, Murli prepared his son Milind to contest from the same seat, which he did manage to win from Mehta in the 2004 Lok Sabha Election from Congress ticket.