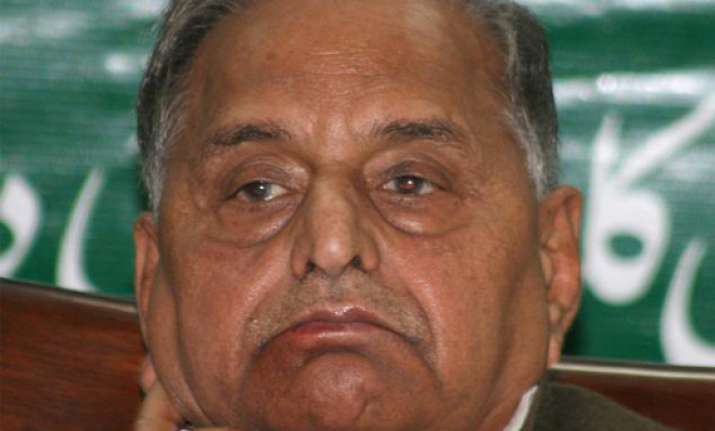 Lucknow, Jun 16: Rejecting reports of a deal with Congress, Samajwadi Party chief Mulayam Singh Yadav said today that he had proposed the name of Prime Minister Manmohan Singh and two others as he felt Congress appeared to be hesitant in naming Pranab Mukherjee for the President's post.
He also said he met Congress President Sonia Gandhi after floating the three names on Wednesday evening with Trinamool Congress chief Mamata Banerjee when Gandhi pointed out to him that he had favoured Pranab earlier.
"SP has always been against deals as it is the work of brokers. We have supported Pranab Mukherjee's candidature because he is a capable and experienced leader with an ability to take everyone along", Yadav told reporters here.  
To question whether his party would join the UPA, the SP chief replied "there is no no question of it."
"Earlier, there was an impression that Pranab's name is not coming up. In that case, the name of (Prime Minister) Manmohan Singh is suitable for the post as also the names of Somnath Chatterjee and A J P Abdul Kalam," Yadav said giving reasons for coming out with three names in the company of Mamata.
Another reason he gave for floating the names was "changing political situation". "In politics, situation keeps changing and one has to take other leaders along," he told CNN-IBN.
Yadav said the three names they floated were only "suggestions" and he was happy that his original proposal has been accepted.
"I have now fulfilled my promise by backing Pranab's candidature," he said.
SP had yesterday announced support for Mukherjee for the post of President.
Yadav said Mukherjee is experienced, honest, intelligent and capable person and his party is with him.  "Pranab is experienced, honest, intelligent and a capable person. We support him", Yadav said while talking to reporters here.
Yadav said in an earlier meeting with Gandhi, he had proposed the name of Pranab for the high constitutional post saying he was the "best" in Congress to suit the job.  
During the hectic parleys for building a consensus on Presidential candidate, Defence Minister A K Antony and political secretary to Gandhi, Ahmed Patel had met him separately, Yadav said.
He also said Presidential poll was not limited to Congress as it was a "national issue."
When asked about naming three candidates, he said the question has no meaning now.