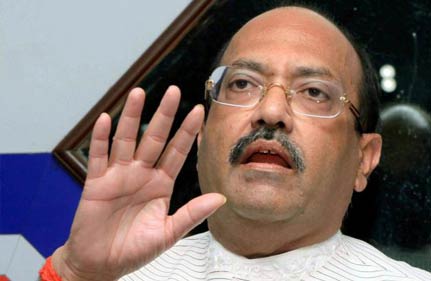 Lucknow, Nov 16: A day after the Supreme Court gave him relief in a case relating to the Anti-Defection Law, expelled Samajwadi Party MP Amar Singh today claimed that he had offered to resign from the Rajya Sabha but party chief Mulayam Singh Yadav stopped him from doing so.
"I had offered to resign from Rajya Sabha membership but Mulayam Singh Yadav stopped me to do so by saying that if I left the seat it would go to BSP," Singh told reporters here.
The apex court had yesterday directed that no action shall be taken against expelled Samajwadi Party MPs Amar Singh and Jaya Prada under the Anti-Defection Law in the event of their defying a party whip.
Both the leaders had sought interim stay on any possible action against them in case they decided to vote in favour of Women's Reservation Bill to which the SP is opposed to.
Asked whether he plans to launch a political outfit, Singh said he would decide his future course of action after gauging the mood of people during his month-long 'padyatra' from Allahabad to Gorakhpur next month.
"I will be holding padyatra to press for formation of separate Purvanchal state," Singh said, adding that he would write letters to Congress president Sonia Gandhi, BJP chief Nitin Gadkari and other leaders in this regard.
Asked about Mohammad Azam Khan's re-entry in SP, he said that it was the internal matter of the party and he would not like to comment on it.
He also denied any possibility of re-joining the SP. "I did not leave the party but resigned from all party posts. Later, I was expelled. I will never re-join the party now," Singh said.
On Jaya Bachchan, Singh said that she did not get anything for choosing the party over him.
"Jayaji sided with Mulayam and selected politics instead of her 'devar' (brother-in-law)" but she did not receive any favours from the SP, Singh told reporters in reply to a question. PTI