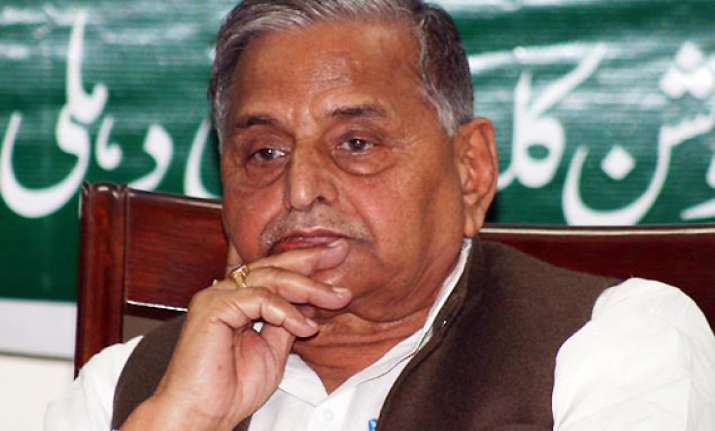 Hamirpur (UP)/New Delhi, Feb 15: In a u-turn, Samajwadi Party supremo Mulayam Singh Yadav today ruled out giving support to Congress in government formation in Uttar Pradesh, hours after he spoke about this possibility if there are signs of BJP coming to power.

Apparently realising the political import of his remarks on SP's readiness to support Congress, Mulayam at a hastily convened news conference in Lucknow said the question of support did not arise, claiming his party will be getting absolute majority.

"The question of giving or taking support to Congress or anyone else did not arise as SP is getting absolute majority in the state," Mulayam said.

"We are supporting Congress at the Centre to keep BJP at bay. But the question for the same does not arise in UP...", he added.

At a meeting in Hamirpur earlier in the day, Mulayam had kept open the option of a post-poll tie up with Congress, saying his party can support Congress to stop "communal" forces if he sees BJP coming to power.

"There is wave in favour of SP, which is going to form next government in the state...If I see BJP coming to power, our party can support Congress in the state to prevent communal forces," the former UP Chief Minister said. 

About the Congress, he claimed at the news conference it was at number four position in the state and if somehow it reached the third spot it was an achievement for the party. 

"The Congress is there in talks among media and leaders but not a the village level", Yadav claimed.

The Congress on its part gave a lukewarm response to Mulayam's readiness to support the party in UP after the Assembly polls. Counting of votes is due to be taken up on March six.

The question is "premature and unnecessary at this point of time", Congress spokesperson Renuka Chowdhury told reporters in New Delhi in reply to questions on Mulayam's remarks and whether the SP was the 'natural ally' of Congress.

Noting that the Congress attitude on the issue was going to be "wait and watch", she said  "there has been no pre-poll pact between Congress and the Samajwadi Party. We have not arrived at post-poll scenario as yet.