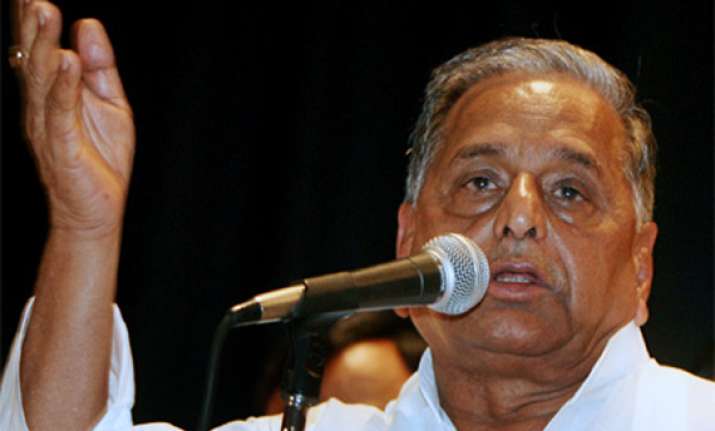 Lucknow, Jan 16 : Accusing the Congress of double speak, Samajwadi Party supremo Mulayam Singh Yadav today demanded that the party either sack general secretary Digvijay Singh or take action against Prime Minister Manmohan Singh and Home Minister P Chidambaram on the Batla House encounter case. 
"Congress is not serious on the issues pertaining to Muslims and treat them only as a vote bank. That is why when assembly polls are underway, the issue of Batla House encounter has been raised by party leader Digvijay Singh, who termed it as fake.

"Why has this issue been raised by him now ? Congress should either sack him or take action against PM and Home minister, who feel that the encounter was not fake", Yadav told PTI in an
interview.

Alleging that Congress is misleading Muslims, Yadav said that SP's stand had been that the encounter was "fake" and it had been demanding judicial inquiry into the matter but no action has

been taken yet in the matter by Congress-led UPA.  "Congress leaders are making contradictory statements in a planned manner. It's a conspiracy, which will only help communal forces..One

the one hand, they are becoming sympathisers of the Muslim community by terming the encounter as fake, and on the other, toeing the party line that it was a fair encounter .... This is just a

political gimmick to befool Muslims, who are being treated as a vote bank", he said.  Claiming that the UPA was shying away from ordering a judicial probe, Yadav pointed out that it was "SP,

which had sent its leaders Amar Singh (not in SP now) and Ram Gopal Yadav after the encounter in 2008 and they had arrived at the conclusion that encounter was fake".

During an operation against suspected Indian Mujahideen (IM) terrorists in Batala House in Delhi in September, 2008, two suspected terrorists, Atif Amin and Mohamed Sajid were killed

while two other suspects Mohd Saif and Zeeshan were arrested while one accused Ariz Khan managed to escape.  Delhi police inspector MC Sharma, who led the police action, was also killed

during the incident.  Doubting Congress intention of providing reservation to Muslims, Yadav said, "Reservation is doled out for political mileage but will not server any purpose and

boomerang as Muslims are aware of the nefarious designs of Congress." The SP leader promised reservation for Muslims in the state, if voted to power.

Asked about Rahul Gandhi's campaign in the state and its possible outcome, Yadav, without taking any names, said, "Congress is spending a huge amount to project it and a leader. But it will

not serve any purpose. A leader is one who has a mass base and Congress does not have any such leader".  On a question related to his "old friend" Beni Prasad Verma, who is now in

Congress, Yadav said that he had a 34-year-old association with him and would not like to comment on him and his involvement in the polls.  About the possibilities of a post-poll alliance,

Yadav claimed there was a wave in favour of SP and it would succeed in forming a government on its own by getting absolute majority.

About BJP and BSP, Yadav said that whenever needed BSP would take support of the "communal party and both of them have a tacit-understanding regarding this and they are conspiring to

keep SP from retaining power".  "Voters should remain alert to these parties. If number of BJP rises, it will be supporting BSP again. Voting for both these parties mean strengthening

communal forces", Yadav said.

On projecting son Akhilesh Yadav as future Chief Minister  of the state, Yadav said party legislators would decide the same and there should be no confusion regarding this.