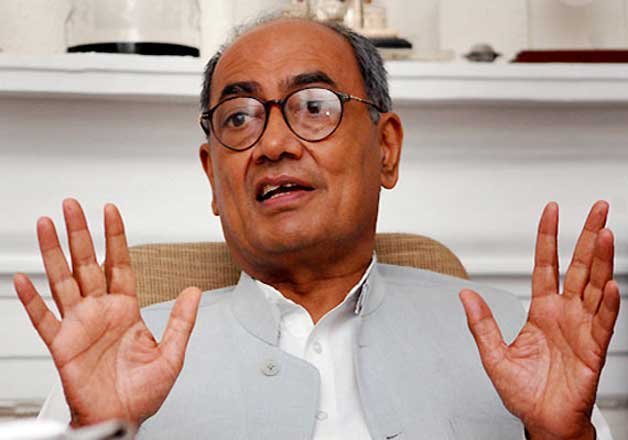 Bengaluru: Congress General Secretary Digvijay Singh today accused Prime Minister Narendra Modi of trying to occupy the "centrestage" of the Congress party with his talk on tolerance and right of minorities, and asked whether "a leopard ever changes its spots."
"Today the definition of secularism is being challenged. What does secularism mean to us. It means 'sarva dharma sambhav' (equality of all religions). And now, Prime Minister Modi is trying to occupy the centrestage of the Congress party. Can a leopard ever change its spots. It cannot," Singh claimed.
"Mr Modi is now talking of tolerance. He is talking of the right of minorities," he said, at an event to observe the 125th birth anniversary of Pandit Jawaharlal Nehru here.
Attacking Modi for being "communal", Singh asked whether he feels sorry for the 2002 communal riots in Gujarat, or provide justice to those affected by it.
"I would like to ask him. Is he repenting that thousands of innocent people were killed in Gujarat riots? Is he prepared to give justice to those who suffered in 2002 riots?
These are the issues Modi should first address," he said.
Singh also asked Modi whether he is ready to take action against a BJP leader accused in the Muzaffarnagar riots or drop a Union minister for her "Ramzada and ... remarks", which divided the nation.
"Is he ready to take action against BJP leader (Suresh Rana), who is accused in Muzzafarnagar riots. Is he prepared drop a minister (Sadhvi Niranjan Jyoti) who divided the whole country into Ramzada and..." he said.  Singh asked Modi to first act instead of talking on the issue of protecting the interests of minorities.
"If he is serious about keeping the country together, and if he is serious about looking into the interest of minorities, he first must act. Only words will not make a difference."
He alleged that officers, who investigated false police encounters are being "harassed" and activists like Teesta Setalvad who fought for secularism are being "hounded".
"The officers who investigated false police encounters are being harassed. Is this justice? Famous activists (Teesta) Setalvad who fought for justice for people affected by Gujrat riots is being hounded. These are the challenges we face today of the idea of secularism," he claimed.