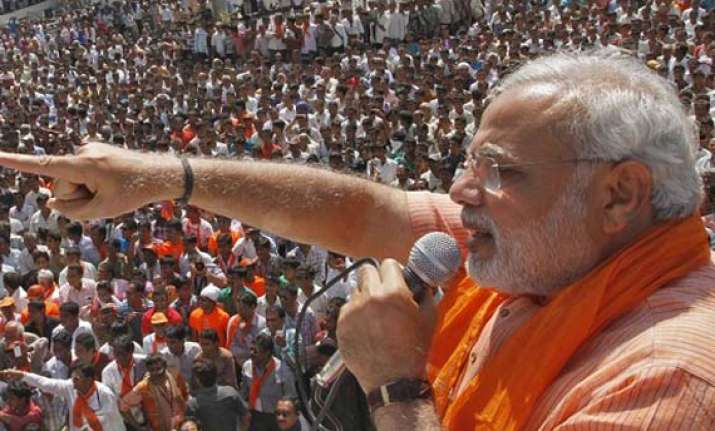 Lucknow: The Bharatiya Janata Party Friday shot back at the state Congress party for alleging that the BJP was converting black money into white by charging tickets for Narendra Modi's rallies, and said the "Congress is petrified of Modi".
Congress general secretary Madhusudan Mistry had said the BJP was resigned to its defeat in the forthcoming Lok Sabha polls. Hence, it was levying tickets for the rallies addressed by its prime ministerial candidate Narendra Modi.
"Modi is fast emerging as a popular choice of the people of India as their prime minister. The Congress is unnerved at being reduced to a double-digit party in the Lok Sabha polls, hence it is making all these baseless charges," state BJP spokesman Vijay Bahadur Pathak said.
He said the funds collected at the Hyderabad rally of the BJP which Modi addressed were for the Uttarakhand tragedy relief.
"The Congress has lost the plot. First, they said they will ignore Modi ji. Now, they are saying that he is no force in the country. Then, why this tamasha?" Pathak asked.
The BJP's state unit has also questioned the selection of venues - Aligarh and Rampur - for the public rallies of Congress vice-president
Rahul Gandhi
and alleged this was "part of the minority appeasement plans of the Congress".
Even during their visit to the Muzaffarnagar riot relief camps, the Congress leaders, including Prime Minister Manmohan Singh,
Sonia Gandhi
and Rahul Gandhi, had only met Muslim victims and left out other communities high and dry, Pathak alleged.
In the absence of any credible issues, the Congress in league with the ruling Samajwadi Party (SP) in the state was trying to polarise the people on communal lines, he said.