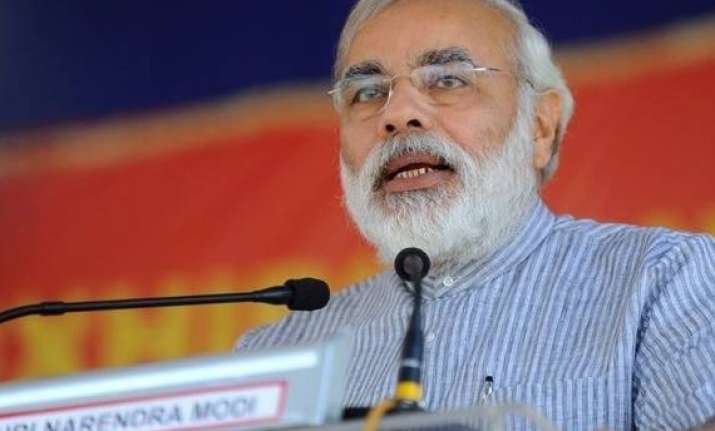 Dharamshala: Gujarat Chief Minister Narendra Modi slammed the Centre for what he claimed to be its directive to the Border Security Force (BSF) not to retaliate in case of illegal Bangladeshi infiltration.
"Illegal infiltration at the Bangladesh border is a matter of concern and I'm shocked about the union government's decision to withdraw the 'right to retaliate' order against trespassers," Modi claimed addressing BSF jawans at their camp in Dharamshala, about 25 kms from the Indo-Pak Border in Kutch district.
"The Centre told the BSF that if they find illegal infiltrators at the Bangladesh border, they should stop them. But if they attack BSF, they have been told not to retaliate," Modi said after inauguration of a war memorial and a water pipeline in the Rann of Kutch border area.
"This decision of the present government is really unfortunate. Every soldier has the right to fight and the Indian armed forces should be given the right to retaliate," Modi said.
Modi, who had criticised the Centre earlier in the day for its policy on Pakistan and China, however, did not raise the issue of ceasefire violation by Pakistan at the India-Pakistan border during his speech at the BSF camp.
He said it is tough for troops posted at the Kutch border because of its weather and that his government was committed to addressing the problems faced by them.
"I had taken up issues related to our army personnel at the National Security Council. Gujarat is keen to provide good facilities to troops deployed on the international border in Gujarat," he said.
The drinking water pipeline inaugurated by Modi was laid in five months at a cost of Rs 8 crore to provide water to BSF jawans in the Rann of Kutch. Modi said earlier BSF jawans patrolling the border were provided water on camels.
He also announced food sold at the BSF canteen at the Bhuj camp would be exempted from Value Added Tax (VAT).
"I hope that jawans who buy food from the canteen will use their savings on the education of their children, more particularly their girls," Modi said.