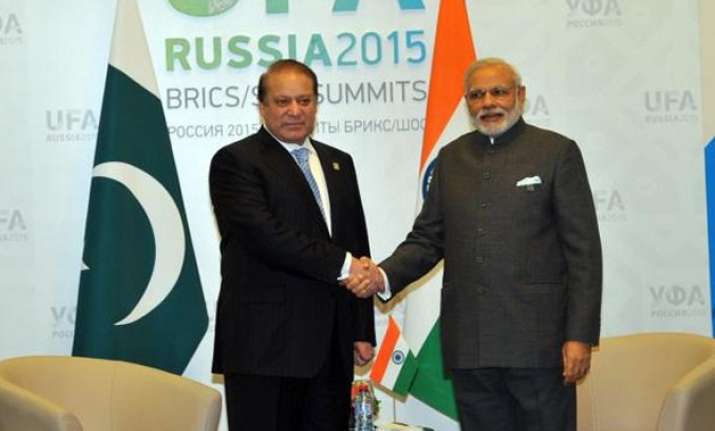 Ufa: Prime Minister Narendra Modi today warmly received his Pakistani counterpart Nawaz Sharif before their much-anticipated meeting on the sidelines of the SCO Summit here.
The two leaders shook hands and posed for photographers before settling down for delegation-level talks.
Indian delegation included National Security Advisor Ajit Doval and Foreign Secretary S Jaishankar while Sartaj Aziz, Sharif's advisor on foreign affairs and national security, was in the Pakistani delegation.
Setting the tone for the meeting, Modi and Sharif last night exchanged pleasantries and chatted briefly when they came face-to-face at a dinner hosted by Russian President Vladimir Putin for leaders of five BRICS countries and 10 SCO nations here.
The two leaders, who are here to attend the Shanghai Cooperation Organisation (SCO) Summit, are expected to discuss the status of the bilateral ties and the future direction.
Modi and Sharif were last together in Kathmandu in November last for the SAARC Summit but they did not have a bilateral meeting because of acrimony between the two countries at that time.
Modi and Sharif had held last bilateral in May last year in New Delhi when the Pakistan Prime Minister came to attend swearing-in ceremony of the Indian leader. They merely exchanged pleasantries during the SAARC summit in Kathmandu in November last.
Jaishankar and Choudhry took turns to read out the one-page joint statement but refused to take questions from the media.
Terrorism remained focus of the talks with both the leaders condemning terrorism in "all its forms" and agreed to cooperate with each other to eliminate the menace from South Asia.
"They agreed that India and Pakistan have a collective responsibility to ensure peace and promote development. To do so, they are prepared to discuss all outstanding issues," the statement said.
Both sides also agreed to hold early meetings of DG BSF and DG Pakistan Rangers followed by that of Director Generals of Military Operations (DGMOs).
It was decided to release fishermen in each other's custody, along with their boats, within a period of 15 days.
A mechanism for facilitating religious tourism will also be worked out, as per the five-point "steps" to be taken by the two sides.
Modi, in a dark grey bandhgala, received Sharif and the two leaders warmly shook hands and posed for the shutterbugs before settling down for the talks.
"The meeting was held in a cordial atmosphere. The two leaders exchanged views on issues of bilateral and regional interest," the statement said.