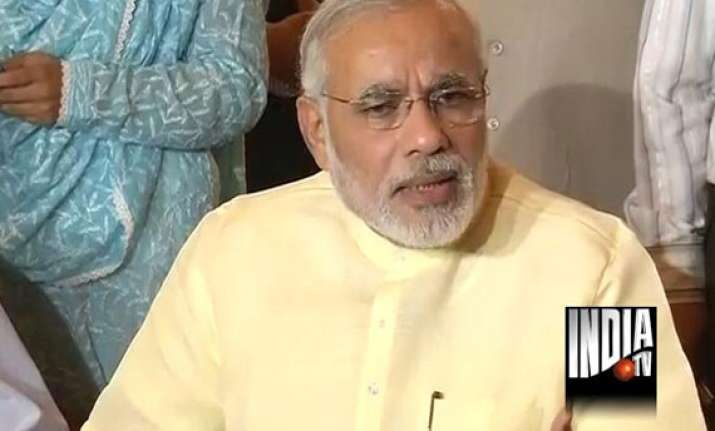 New Delhi, Jun 5: Gujarat chief minister Narendra Modi today lashed out at the Centre for its strategy on internal security, thanked the people of Gujarat for the victories in by-polls but refused to take any question from mediapersons, who wanted to know about BJP's PM candidature.
Modi, who had come to attend the Chief Ministers' conference on internal security called by the Prime Minister, said the Centre was more interested in 'rajkiya suraksha' (state security) than 'rashtriya suraksha' (national security).
Giving a synopsis of what he spoke at the conference, Modi said, the entire nation stood united to fight the Maoists, and the message should go from the conference that all of us stand with Chhattisgarh chief minister Raman Singh and the security forces.
"The nation will never accept Maoism. India will fight and come out victorious", Modi said.
"From Pashupatinath (Nepal) to Tirupati (Andhra), the Red corridor set up by the Maoists is a matter of concern", the Gujarat chief minister said.
Modi alleged that a woman, Padma, whose husband was a known Maoist, was made a member of National Advisory Council headed by Sonia Gandhi, and another Maoist was made a member of Planning Commission headed by the PM. "How can the security forces fight Maoists?", Modi asked.
Modi cautioned that the Maoists were now planning to strike out at urban centres, and were making plans to target the Pune-Ahmedabad industrial corridor, and six big cities.
The BJP leader also opposed the Centre's proposal to take out MAC (multi-agency centre) from the Intelligence Bureau and hand it over to NCTC (National Counter-Terrorism Centre), saying this would harm the federal structure.