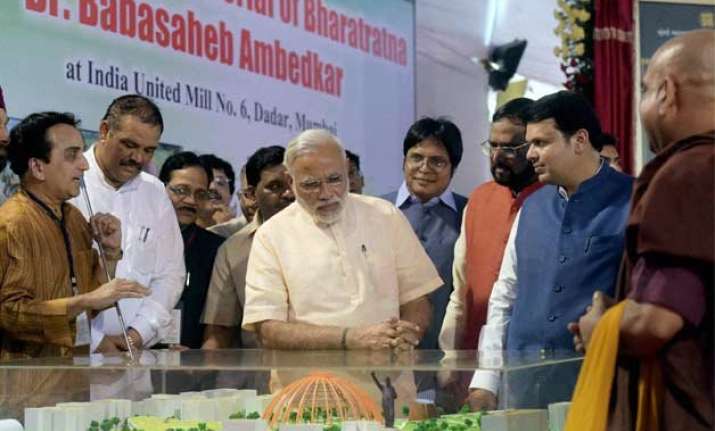 Mumbai: Reflecting the growing chasm between aharashtra's ruling coalition partners, Shiv Sena ministers today skipped the event where Prime Minister Narendra Modi performed the ground-breaking ceremony for a memorial to B R Ambedkar to which their leader Uddhav Thackeray was not invited.
"The Sena ministers were invited for the event, but the BJP has shown a narrow mindset in the name of protocol by not inviting (Sena president) Uddhav Thackeray. He was not even kept in the loop about the invitees from our party for the event," a senior Sena leader said, requesting anonymity.
 
He further said the Sena had played an important role in raising the voice of the Dalit community in the Parliament and in the state, but the BJP chose to ignore its contribution by not inviting its chief.
"What do we understand by this gesture of BJP? It is not as if Uddhav Thackeray asked anybody not to attend the event. He left it to the ministers to decide," he said.
Sena spokesperson Neelam Gorhe said the reports of "diktat" being issued by Thackeray were false.
"It is clear that somebody is trying to malign the image of the party and strain our ties with our ally," Gorhe told PTI.
"There has been no diktat issued by Uddhavji to Sena ministers. All ministers were busy with something or the other."
The absence of Sena minister could further strain the already frosty ties between BJP and its ally, which has often been openly critical of the Devendra Fadnavis government's handling of the agrarian crisis and, more recently, over demand for a meat ban during the 'Paryushan' festival of Jains. Several BJP leaders had supported the ban, while Shiv Sena had opposed it.
Governor Ch Vidyasagar Rao, Chief Minister Devendra Fadnavis, Union Ministers Nitin Gadkari and Santosh Gangwar, Dr Ambedkar's grandson Prakash Ambedkar and RPI leader Ramdas Athavale were among those present at Indu Mills compound in Dadar, where Modi performed the ground-breaking ceremony.
 
The memorial, to be developed at a cost of over Rs 400 crore in the city where the Dalit icon and architect of the Constitution lived for several years, is planned to be completed during the tenure of the present government.