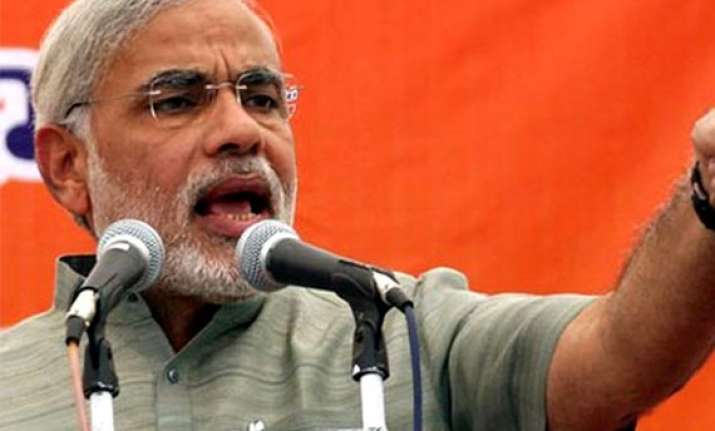 Ahmedabad, May 22: Activists here yesterday alleged that Gujarat Chief Minister Narendra Modi was misleading people on the Gulf of Khambhat Development Project (Kalpasar), touted to end water woes of the arid Saurashtra region.
Modi, who holds the Kalpasar portfolio, has not convened a single meeting of the project, Gujarat Social Watch's Mahesh Pandya alleged.
"After 2005, not a single meeting has been called by Modi regarding the project," Pandya alleged.
Kalpasar is a water resources project involving creation of fresh water reservoir in the Gulf of Khambhat for meeting demand of irrigation, domestic and industrial water supply.
Activists also accused Modi of misleading the people regarding the Bhadbhut barrage, which is to be built on Narmada river to bring the flood water from there to Kalpsar.
"Modi said in Rajkot on May 5 that a tender for Rs 4,000 crore will be floated soon to begin work on Bhadbhut barrage.
On May 18, speaking at the inauguration ceremony of Krishi Mahotsav, he spoke of Rs 3,400 crore project for building Narmada reservoir from Kevadia colony to Bhadbhut barrage linking it with Kalpasar project," Pandya told newspersons here.
"Even after all environmental clearances are over, it will take 270 days for further clearances at state and local level, only after which a tender for the project can be floated," Pandya further said.
"To say that a tender for Rs 4,000 crore will be floated soon to begin work on Bhadbhut barrage is fooling and misleading the people of Saurashtra region, who are reeling under water scarcity," he added.
Regarding work on canal network to provide Narmada water to Saurashtra region, People's Union for Civil Liberties (PUCL) secretary Gautam Thaker alleged that only 30 per cent work has been completed of which 27 per cent work was over before Modi took charge in 2001.