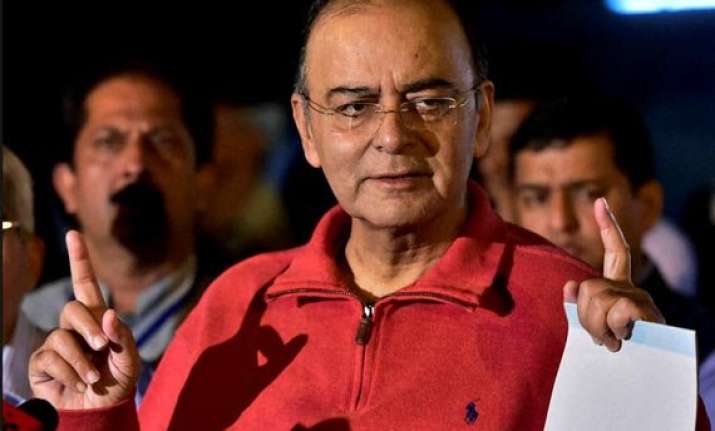 New Delhi: The Narendra Modi government, which promised to bring back black money stashed by Indians in foreign banks, on Friday toed the line of UPA regime by informing the Supreme Court that it cannot disclose such details given by countries with which India has double taxation avoidance agreement(DTAA).
In the run-up to the Lok Sabha polls, BJP spearheaded by Narendra Modi had promised to bring back black money kept by Indians in overseas bank and slammed UPA government for not taking effective action and accusing it of shielding the corrupt. After assuming power in May, the Modi government had pledged to fulfil its pre-poll promise.
Modi govt's stand in the apex court evoked strong reaction from the opposition.
Congress slammed government's move and called it "sheer hypocrisy".
Citing four tweets posted by Modi before Lok Sabha polls on the black money issue in which the BJP leader had slammed the previous Manmohan Singh government, Congress spokesman Abhishek Singhvi wondered if there was only "sheer hypocrisy" in public life.
Singhvi read out tweets by Modi in which the latter had attacked UPA's "lack of commitment" towards bringing back black money.
He also recalled that BJP had attacked the then UPA finance minister PranabMukherjee after he had talked about the difficulty of naming the Swiss bank account-holders due to DTAA obligations.
He said the government should have the courage now to say that governance is different from rhetoric and added that "the then finance minister was doing nothing more than what was done today after months and months of hypocrisy".
Alleging that Modi and BJP made "hyperbole" on black money with a view to garnering votes, he asked whether the Prime Minister should not tender an apology to the nation for the same.
Drawing a parallel between the Narendra Modi government and its predecessor UPA, the Aam Aadmi Party (AAP) slammed the Centre for refusing to disclose all information on black money.
"The Narendra Modi government's attempt to block the disclosure of names of individuals who have stashed black money abroad is a betrayal with the people of India and first major breach of trust by this regime," AAP alleged in a statement.
Finance minister Arun Jaitley, however, rejected the charge that Modi government was reluctant to part with information about the names of persons having black money abroad.
"Is the present NDA government led by Modi in any way reluctant to make some names public? Certainly not. We have no difficulty in making names public. But they can be made public only in accordance with due process of law.
"And the due process of law has been constrained by DTAA (Double Taxation Avoidance Agreement) which was entered into between India and Germany when the Congress Party was in power on June 19, 1995," he said.
Jaitley also claimed a breakthrough saying the Swiss government had agreed to share information on Indians stashing illicit money there in certain cases, but blamed a 1995 agreement as the constraining factor in disclosing their names.
Earlier in the apex court, the Centre, in an application with annexures running into about 800 pages, contended that it cannot disclose all information as the foreign countries, with which India has double taxation avoidance agreement, have objected to making them public.
Expressing reservation on disclosing all information on account holders, the government said that the foreign countries may not give further information and it would also be difficult to get into DTAA with other nations.
Appearing before a bench headed by Chief Justice HL Dattu, attorney general Mukul Rohatgi mentioned the issue saying that German government has raised objection on making public names of the Indian account holders in LGT Bank, Liechtenstein.
Accusing NDA government of trying to protect the culprits who stashed money in overseas banks, senior advocate Ram Jethmalani on whose plea the apex court had constituted Special Investigating Team (SIT) on black money, strongly objected to Centre's stand and said that matter be not heard.
"Matter should not be entertained even for a day. Such application should have been made by the culprits and not by the government," Jethmalani said, adding that Centre is trying to protect the people who have stashed black money in foreign banks.
Jethmalani, who claimed that around Rs 70 lakh crore was stashed in foreign banks, said that he has written a letter to Prime Minister on this issue and his response is awaited.
Interestingly, the apex court had earlier rejected the same stand taken by UPA government, observing that such DTAA does not prevent the Centre from disclosing the names of the persons having bank accounts in foreign banks.
It had said the treaty has been drafted in a "sloppy" manner, and cautioned the Centre not to enter into an agreement which undermines the Constitution.
The apex court after hearing AG's contention posted the case for Octocer 28.
Rohatgi later told reporters that all amounts deposited in foreign banks by Indian citizens can't be termed as black money and that it is not a crime to open such accounts.
He said that details of only those accounts can be made public in which government decides to start prosecution.
Taking a swipe at the Modi government, Congress spokesperson Sanjay Jha said it has no intention to get to the bottom of the black money case.
"This government has no intention to get to the bottom of the black money case. During his campaign, Modi had promised to get back the black money in 100 days but they have not taken any initiative," he said.
On DTAA, the apex court had in its earlier judgment said, "The fact that such treaties are drafted by diplomats, and not lawyers, leading to sloppiness in drafting also implies that care has to be taken to not to render any word, phrase, or sentence redundant."
"The government cannot bind India in a manner that derogates from constitutional provisions, values and imperatives," the court had said.
"We have perused the said agreement with Germany. We are convinced that the said agreement, by itself, does not proscribe the disclosure of the relevant documents and details of the same, including the names of various bank account holders in Liechtenstein," the court had said.
After resisting for more than three years, the UPA government had on April 29 this year revealed in the Supreme Court names of 18 people who allegedly stashed black money with LST bank and against whom prosecution have been launched by the IT department.