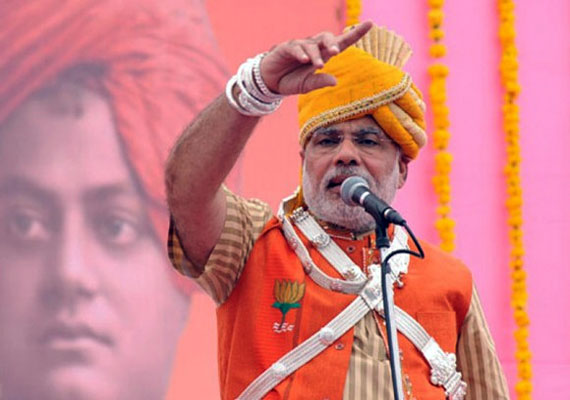 New Delhi: A random survey carried out through face-to-face interviews with nearly 68,500 respondents in 24 states across India by Lok Foundation and Centre for The Advanced Studies of India, Pennsylvania University, shows, BJP prime ministerial candidate Narendra Modi surging far ahead of his rivals in the Hindi heartland.
The survey conducted in early 2014 shows, 31 per cent voters are in favour of NDA, a huge surge compared to 21.5 per cent in the 2009 Lok Sbha elections.
In 1996, the BJP's vote share was 25.6 per cent.
The Congress-led UPA was far behind with 23 per cent this time, whereas in 2009 Lok Sabha elections, the UPA's voteshare was 31.5 per cent.
The survey reveals, the NDA is going to ride high in western and northern India, with its vote share in Bihar alone rising to 23 pc, and in UP to 29 per cent.