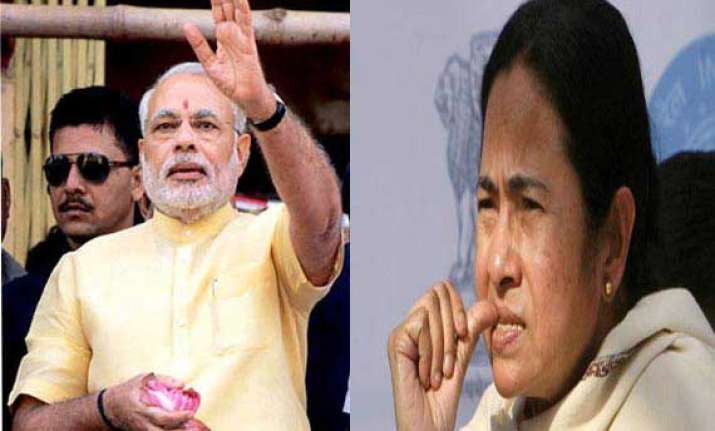 Kolkata: BJP Prime Ministerial candidate Narendra Modi is contesting two Lok Sabha seats in Gujarat and Uttar Pradesh because he is 'afraid of losing', Trinamool Congress chief Mamata Banerjee claimed today.  Stating that most politicians lacked transparency and credibility, Banerjee said "why is he contesting from two seats—one from Gujarat and another from UP? That means he is not sure of his victory.
"Even if you win both the seats, you will have to leave one seat which means you are not doing justice to the people who have elected you from that seat. Then, where is transparency and credibility?" Banerjee, West Bengal Chief Minister, said in an interview to Bengali news channel News Times.
She also claimed the Gujarat model of development touted by Modi could not be replicated in the entire country and the West Bengal model was much better.
In infant mortality rate, maternal mortality rate and other human development parameters, Gujarat was much below West Bengal, Banerjee claimed.
Stating that Gujarat had received huge central funds for rehabilitation after the earthquake in 2000, she said "I was the Railway Minister then. I went to Bhuj to set up railway line so that relief materials could be sent." Without naming him, she alleged Modi was the 'face of riots' and BJP is a 'party of rioters'. "People of this country don't want the face of riots or a party of rioters to come to power."
Attacking Congress, she alleged it was responsible for rampant corruption while it had increased the prices of essentials, making life difficult for the common people.  She also dwelt on the Centre deducting interest on huge loans taken by the previous Left Front government.  "If you go against them, they will threaten you with CBI, Income Tax, ED. They can do whatever they want." Banerjee criticised both BJP and Congress for allegedly instigating a separate statehood demand in the Darjeeling hills.