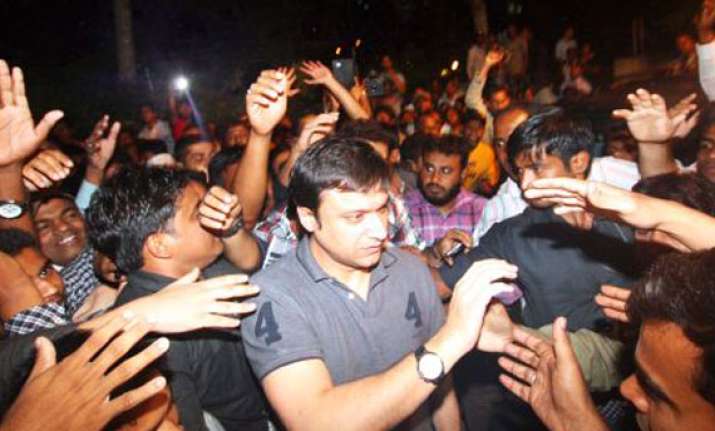 Hyderabad, Jan 8: Amidst high drama, MIM MLA Akbaruddin Owaisi, who is facing multiple cases for his alleged " hate speech", was on Tuesday arrested after medical tests in a government hospital here a day after his arrival from London.
Owaisi, who was subjected to medical examination at the Gandhi Hospital here for his fitness status, was straightaway taken under high security in a convoy of cars to Nirmal in Adilabad district, more than 200km from here.
Security was also tightened along the route to Nirmal in the Telangana region of the state.
42-year-old Owaisi, the floor leader of his party in the Andhra Pradesh assembly, is expected to be produced before a court in Nirmal in connection with the registration of a case against him for alleged provocative speeches regarding the disputed Bhagyalakshmi shrine in the Charminar area.
Complaints have been filed against him in regard to the same speeches in various police stations in Hyderabad and other parts of the state.
On medical grounds, Owaisi had sought four days time to appear before the police which had booked him under various sections of the IPC in Nizamabad and Osmania University police here for the alleged "hate speeches"
As he failed to appear before the police, the investigating officer of Nirmal (rural) police A Raghu visited Owaisi's house in Banjara Hills here on Monday evening and found that he looked fit to face questioning, according to police sources.
However, Owaisi complained of "internal pain". Police took him to Gandhi hospital and was subjected to medical examination by government doctors at Gandhi Hospital on Tuesday. After getting the medical report, the police arrested him.
As the news of his arrest spread, hundreds of MIM party workers and his supporters gathered in front of Gandhi Hospital. Police had a tough time in controlling the protesters and preventing them from gatecrashing into the hospital.
Police have already intensified security arrangements in the city, particularly in Old City—a stronghold of MIM Party, by deploying additional forces as a precautionary measure.