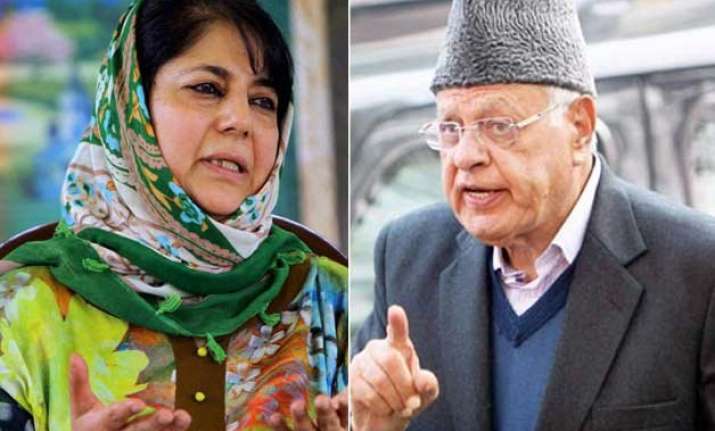 Srinagar/New Delhi: The first signs of efforts to end the nine-day impasse on government formation in Jammu and Kashmir emerged on Saturday with PDP chief Mehbooba Mufti calling a meeting of her party's 'extended core group' in Srinagar on Sunday.
This will be the first formal party meeting to be chaired by Mehbooba who has been playing the guessing game over the government formation ever since the sudden death of her father and then CM Mufti Mohammad Sayeed on January 7.
A senior PDP leader said that at the meeting today, party bigwigs will discuss the future course of action and ties with ally BJP.
"The PDP president has convened a meeting of the extended core group of the party tomorrow at her residence in the afternoon," a senior PDP leader said, adding that those invited to the meeting include the party MPs, former ministers, and the senior party office bearers.
The meeting has been called against the backdrop of reports that Mehbooba is unhappy over a variety of issues with BJP, a party with which Mufti ran a coalition government for 10 months after tying up in the wake of a hung verdict in assembly elections.
On the other hand, BJP has maintained that the PDP has to make the first move by electing its legislature party leader before they can extend support to the regional party for government formation in the state.
Also on Thursday, Union Finance Secretary RP Watal visited Srinagar and met Mehbooba Mufti. Though PDP said Watal had met Mehbooba just to express his condolences, the key official of the Central government is believed to have explained to her about what has been done by the Modi government and what is in store for the state.
Meanwhile, with uncertainty looming large over the continuance of PDP-BJP alliance, National Conference (NC) leader Farooq Abdullah said that his party may consider a tie-up with the BJP for government formation if such an offer is received.
"If such a proposal comes, then NC will call a Working Committee (meeting) and debate over it. If such a situation arises, NC can think over it as we have not closed the doors. Our doors are open," he said.
Abdullah, whose party had earlier been a part of NDA, said NC never shies away from playing its role and that the 'uncertainty is not good for the state and the situation would benefit our enemies'.
"Uncertainty has been created by PDP as BJP is ready to form the government and God knows what PDP is thinking, I hope they end this and the government would continue," he said.
Stating that PDP and BJP should reduce their differences, he said, "I think they should quickly form a government because the state cannot afford instability. Whatever they (PDP and BJP) do, they must do it now and must not wait. I think that is more important now it is the people that matter and people want solutions to their problems and that is what they (both the parties) should focus."
In the 87-member assembly, PDP has 27 MLAs while BJP has 25 legislators. NC has 15 MLAs.
The state has been under President's rule since January 9 as neither PDP nor BJP staked claimed for forming government.