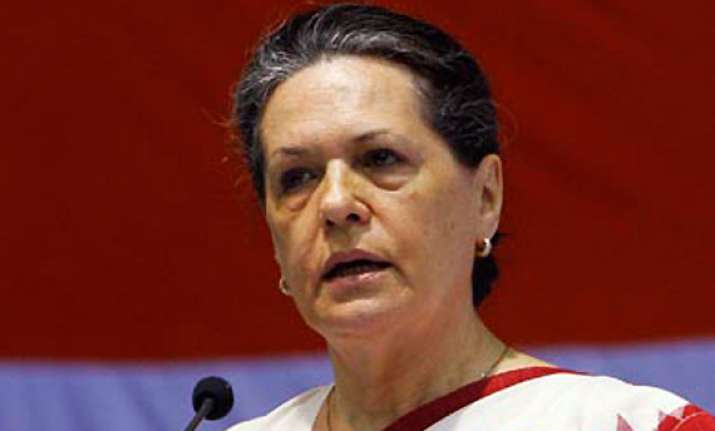 Jowai, Meghalaya, Feb 20: Congress President Sonia Gandhi on Tuesday  described Meghalaya as one of the fastest growing states of India.
Sonia Gandhi said the Centre and the Meghalaya government are seized of the problems of immigration and illegal mining which are core issues of the people in the state.
"The governments both at the Centre and the state are engaged in talks with Bangladesh to see how to stem illegal immigration and I am hopeful that we will reach a solution to the satisfaction of all sides," she told an election meeting at the Kiang Nangbah College ground here.
Sonia said, "I am also aware that illegal mining is a threat to the environment...I must say some measures have already been taken and we will continue to do so in our efforts."
Noting that Meghalaya was one of the fastest growing states, she said it excelled not only in development, but also in administration.
"In many ways Meghalaya has grown far more rapidly than most other states in the North East and perhaps in the country," she said.
The Congress president spoke on improvement of sports activities and infrastructure in the state.
She also said, "We also have not forgotten our farmers. They have received financial support and we will continue to implement our agricultural development schemes especially for the marginal farmers of the state."
Stating that the February 23 election was of great significance, Sonia said, it allowed the people to judge "how we, as a party, helped the people realise many of their expectations.
"We are always mindful of the expectations and aspirations of the people and we do not intend to rest on our laurels. Having been in power has not rendered us complacent," she said.
At another election meeting at Tura, Gandhi spoke on the development undertaken by the Congress-led government in the state.
Urging the people of Garo Hills to repose faith in the Congress, she said, "We have ensured an era of peace, prosperity and stability. This is a development of which everyone can be proud, this is yours in which everyone has a share."