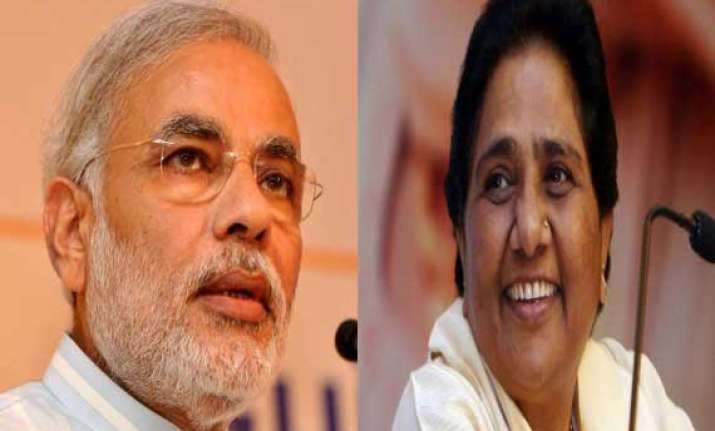 Allahabad: BSP supremo Mayawati today accused BJP of trying to "hoodwink" OBC and dalit voters by projecting Narendra Modi as a leader from a lower caste.  She also said that BJP does not respect its Brahmin leaders as it forced Murli Manohar Joshi to abandon Varanasi seat and pointed out that her party had given tickets to 21 Brahmins in Uttar Pradesh.
She also cautioned Muslims against "division in votes", saying voting for Congress or Samajwadi Party will benefit the saffron party.
"The BJP, with the help of opinion polls that it has been sponsoring, tried to spread a false perception that it was on the upswing, especially in the most populous state of Uttar Pradesh.
"The next step in its strategy has been to hoodwink OBCs and dalits by claiming that it has chosen a lower caste leader Narendra Modi as its Prime Ministerial candidate", Mayawati said at a rally here.
"I wish to pose this question to Modi - you talk a lot of being an OBC leader. Would you care to tell the people which caste group do you belong to.
"Our Dalit and OBC friends need to beware of these antics. BJP workers may be visiting your houses these days and trying to attempt a brainwash by saying you too belong to the Hindu Samaj.
"Remember that once the elections are over and their purpose is served, they will be back to their earlier ways and refuse to treat you with due respect," the BSP supremo said.  
She alleged that the BJP's withdrawal of support to the V P Singh government after L K Advani's arrest while carrying out the "Rath Yatra" in support of the Ram Janmabhoomi movement was caused, in part, by the saffron party's "strong disapproval of pro-lower caste measures like implementation of the Mandal Commission recommendations and awarding of Bharat Ratna to Baba Saheb Bhim Rao Ambedkar".