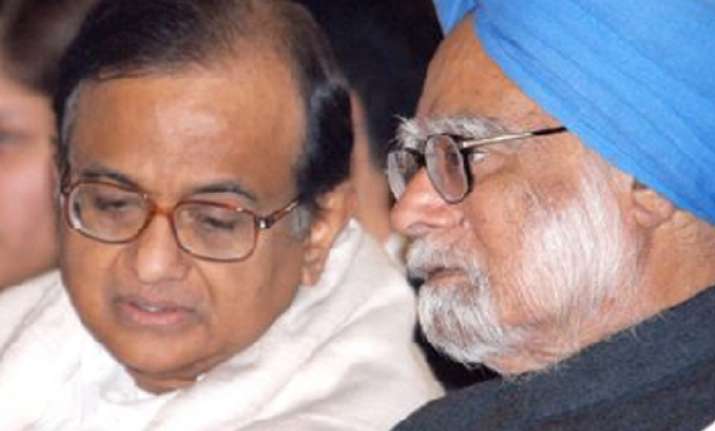 New Delhi, Aug 1: In what could be seen as a strong endorsement for P. Chidambaram, Prime Minister Manmohan Singh showered generous praise on his finance minister for being a key backer of reforms and said here was a man "intellectually brilliant" and "politically savvy" while being "capable of taking risks and asserting political leadership."
"He is not only intellectually brilliant and dedicated to end results, he is also politically savvy. It is these attributes that have made Shri Chidambaram a leader with an enviable reputation both nationally and internationally," the prime minister said.
Manmohan Singh's musings were aired at a well-attended event Wednesday evening at his official 7, Race Course Road residence to release a book. "An Agenda for India's Growth: Essays in Honour of P. Chidambaram", that has articles by several eminent people, including Planning Commission Deputy Chairman Montek Singh Ahluwalia.
The fulsome praise for Chidambaram created quite a buzz as it came against the backdrop of the impending national elections in less than a year, the debate over a third term for Manmohan Singh at the helm and the reluctance of Congress party vice presient Rahul Gandhi to openly join the fray for prime ministership.
Manmohan Singh recollected several instances to highlight why his finance minister was entitled to the observations about him right from 1986 when Chidambaram initiated min-career programmes for bureaucrats, kick-starting reforms in the process of governance.
He then spoke about Chidambaram's stint as minister of state for commerce in the P.V. Narasimha Rao government in 1991. "The fact that within a few weeks of taking over his first economic ministry, he (Chidambaram) brought about radical changes in trade policy, which many academics had advocated for many years, is a tribute to the high qualities of his leadership," the prime minister said.
Manmohan Singh even felt that if reforms continued after 1996, when Congress party lost power, it was in many ways thanks to Chidambaram. "The policies we had implemented in 1991-96 were not only not reversed, they were in many respects even taken forward. This must have been helped greatly by the fact that Shri Chidambaram, as Union finance minister in the United Front Government, contributed to a continuity of policy."
Drawing from his own experience in the government and that of Chidambaram which almost ran parallel for over a quarter of a century, Manmohan Singh underscored what it takes to pursue economic reforms successfully, and how it cannot happen unless there is a fine balance between politics and economics.
While doing that, he again praised Chidambaram for statecraft, recollecting the chain of events in 1991. "In those days, changes in import policy needed the approval of the commerce minister, the finance minister and the prime minister. It is indeed remarkable that Shri Chidambaram as commerce minister was able to get all the approvals in less than 24 hours."
The prime minister also found in Chidambaram what it takes to be a leader, saying young members of his council of ministers constantly look up to him for advice. "They seek inspiration from their senior colleagues like Mr. Chidambaram. He has shown that hard work can deliver results."
Finally, came the blessings: "With these words, I conclude by wishing Shri Chidambaram a long, healthy, purposeful and fulfilling life. He has done the nation proud. He has miles to go before he can rest. May his path be blessed."