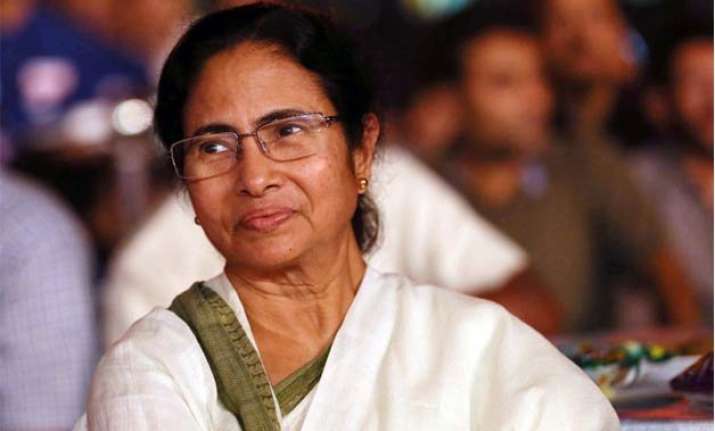 Kolkata:  West Bengal Chief Minister Mamata Banerjee would visit UK to showcase the state as an ideal destination for investment.
Banerjee would lead a 37-member official delegation to London on July 26 for her five-day visit to the UK and would return to Kolkata on July 30.
The CM's visit would begin with a conference of British CEOs during her interaction at the UK India Business Council During her visit to London, Banerjee would showcase West Bengal as an ideal destination for investment, even as the tour was expected to pave way for agreements on health, education and other social sectors, state Finance and Industry minister Amit Mitra said.
But the meeting between Banerjee and British Prime Minister David Cameron in London may not be possible because of Cameron's preoccupation with the economic crisis in Greece.
"Even as the British PM was eager to meet the Chief Minister, this may not be possible as David Cameron will not be in the country during her visit to London because of his
pre-occupation with the issue related to Greece," Mitra said.
The Chief Minister's visit to London was finalised responding to an invitation of the British Prime Minister sometime back. Mitra said Banerjee would reach London on July 26 and would join a meeting of the UKIBC and FICCI to discuss on various issues related to business opportunities in the state on the following day.
Patricia Hewitt, chair of UKIBC, the premier business-to-business network that works with the British Government, would lead the meeting.
The CM would then respond to an invitation by the Duke of York, Prince Andrew, at the Buckingham Palace where the Speaker of the House of Lords would be present.
Banerjee would meet the British Employment Minister Priti Patel at the UK foreign office, where all MoUs would be signed, Mitra said.
On July 28, the CM would meet business delegates, secretaries and partners who would be signatories to the MoUs.
Banerjee would then join the British all party Parliamentarians' meeting where three of her party MPs would accompany her.
She would also pay tributes at the statues of Mahatma Gandhi and Rabindra Nath Tagore, Mitra said adding, there would be a cultural event in the evening at the Natural
History Museum.
On July 29, Banerjee would visit the Asia House on an invitation by its Board. The Indian High Commission would host a reception in her honour on the same day, the minister added.