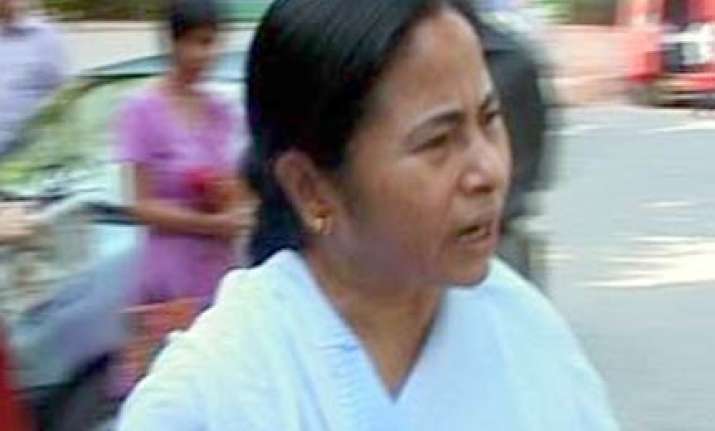 Kolkata : Striking a defiant note, Railway Minister and key UPA ally Mamata Banerjee on Wednesday said she stood by her controversial remark on the killing of Maoist leader Azad that it was a murder, a statement that has put the Union Government in a spot.
 Mamata, the chief of Trinamool Congress, however said she spoke as the leader of her party and not as a Union minister when she made the comments at the Lalgarh rally on August 9. The statement had evoked a strong condemnation from the BJP and Left who also demanded an explanation by Prime Minister Manmohan Singh on the remarks which came as an embarassment for the Government.
She welcomed Kishenji's ceasefire offer, saying all problems should be solved through dialogues, but maintained that only the Centre can take a final call. She also indicated she was willing to play the role of a mediator.
 "Whatever I have said in Lalgarh as a Trinamool Congress chief I stick to it. I made the statement in my party capacity," Mamata, whose description of Azad's encounter death in Andhra Pradesh as a 'murder' also had kicked up a storm in Parliament. She had also paid tributes to Azad.
The firebrand Trinamool leader was speaking to newsmen outside her residence before leaving for Delhi after undergoing treatment at home for the injuries she suffered in an accident while returning back to Kolkata from Lalgarh after addressing the rally.
Referring to Kishenji's statment calling for a three-month ceasfire by both sides and Banerjee's mediation, she said, "It is for the government to decide how they want to proceed. I cannot interfere because there is a separate ministry for that. I have seen only the media reports on Kishenji's statment. Let me cross check all details."
 She said as for her opinion as a party chief, she would only say that let the problem be solved through negotiations in a democratic process.
Asked about Kishenji's willingness to have her (Mamata) as a mediator, she said, "If anybody wants to discuss the matter with me and wants my opinion I can give that. But we think all these matters should be sorted out through negotiations only...(If) Both sides agree and if the matter is solved, at least lives of many people will be saved and the country's security safeguarded."
"I have heard the Independence Day speeches of the Honourable President and the Honourable Prime Minister. They also spoke on the same line. If they (Maoists) responded to the President's and Prime Minister's appeal, it is good for the country. Let the problem be solved through democratic process."
 Mamata also said that in a democratic set-up an amicable and peaceful settlement of all issues should be preferred.
" We want that all people (including Maoists) should come to the mainstream. We are proud of our country. It is for the government to decide (on talks with Maoists). I did not talk to the government regarding this."
In an apparent reference to the BJP and Left criticism on her Azad remark, Mamata said, "Political parties have different ideologies and many of them may not accept my opinion, but it is a democratic country. I cannot impose my opinion on everyone. They cannot impose their opinion on me too."
"I have expressed my views. It is my freedom of expression. Anybody can criticise me. I will welcome it if it is positive. But at the same time I would like to ask them whether they want to see bloodbath. Why are the political parties, who are shouting daily, giving arms to their cadres?" she said.
 She said she would again visit Lalgarh to see that justice is done.
 "What I have seen in Lalgarh is from my capacity as a party functionary. We have seen blood. We have seen the bloodbath. We have seen how the killings are going on throughout the country."
 In an apparent reference to the BJP and CPI(M), she said, "If they want to see farmers' movement they should visit Nandigram and Singur, Bundelkhand and Aligarh. We have to support the cause of the people who are fighting."
She alleged that the CPI(M) was responsible for the violence in Jangalmahal by stockpiling arms and asked the media to visit the areas and check for themselves the prevalent reality.
"Why have the ruling party cadres along with goons and guns set up camps? Why are they giving arms to their own party cadres? Why were CPI-M cadres allowed to set up camps? Who gave this order and why is the ruling party violating the Constitution?" she asked. PTI