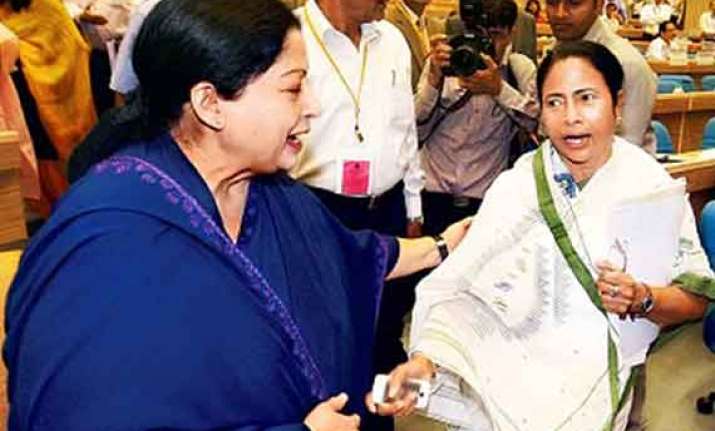 Since the assassination of Indira Gandhi on Oct 31, 1984, women politicians have steered clear of having a go at the high office of prime minister.
For one, they are mostly regional satraps and not strictly in the national arena. Importantly, garnering 272 plus on their own out of the 543 elected seats in the Lok Sabha to stake claim in forming the government, even in good times, is a difficult ask.
Despite the inherent handicap, it is after three decades that two battle-scarred women have joined hands to try and block the over-ambitious Gujarat chief minister and BJP's prime ministerial nominee Narendra Modi from becoming the country's head of government.
Interestingly, Tamil Nadu Chief Minister J. Jayalalithaa made her intentions clear in February itself when she expressed interest in moving to the national capital.
Jayalalithaa and West Bengal Chief Minister Mamata Banerjee believe that regional parties with similar ideologies and wedded to secularism can rustle up a Third or a Federal Front to provide an alternative to a non-Congress and non-BJP combination which has held sway for the last 15 years.