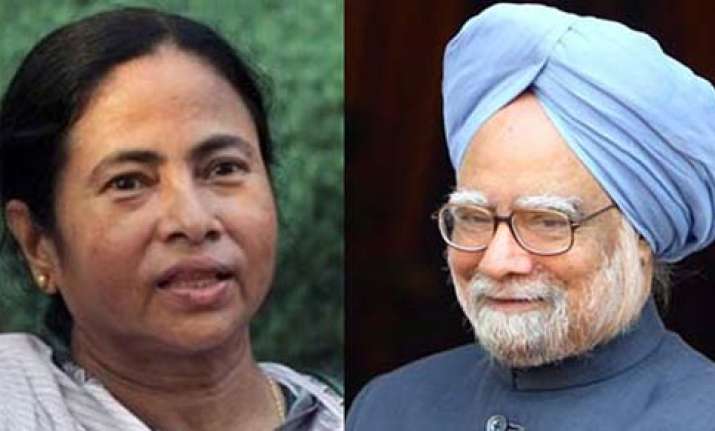 Kolkata, Nov 19 : In the backdrop of 2G Spectrum controversy, Trinamool Congress chief Mamata Banerjee tonight expressed "full support" to Prime Minister Manmohan Singh but said the party was for a discussion in parliament on the issue to "unearth the truth".
"I had met the Prime Minister yesterday and we are the first party to express full support to him. We are with him and we will be with him. Our support is for five years. We have already stated that", Banerjee told reporters emerging from a 45-minute meeting with Union Finance Minister Pranab Mukhjee at his south Kolkata residence here late tonight.
With Mukherjee by her side, she said "Pranabda (Pranab Mukherjee) is also for a discussion".
Banerjee, also the Railway Minister whose party is the second largest ally of UPA-II government, said any issue, including the role of the government, could be discussed in Parliament, to unearth the Mukherjee, who arrived from Delhi this evening, said he had requested Banerjee whether she could meet him as it was necessary to discuss the "political situation with her".He said Banerjee had expressed her party's full support to the government.
Earlier in the day, Mukherjee told reporters in New Delhi that government opposed setting up of JPC to probe 2G spectrum allocation and added the matter could be looked into by the Public Accounts Committee which is "almost a permanent JPC".
The Finance Minister, who had promised to respond to Opposition's demands for a JPC probe after consulting Prime Minister Manmohan Singh, appealed to all parties to help end the stalemate over the issue because of which Parliament is not being allowed to function for the last six consecutive days.PTI