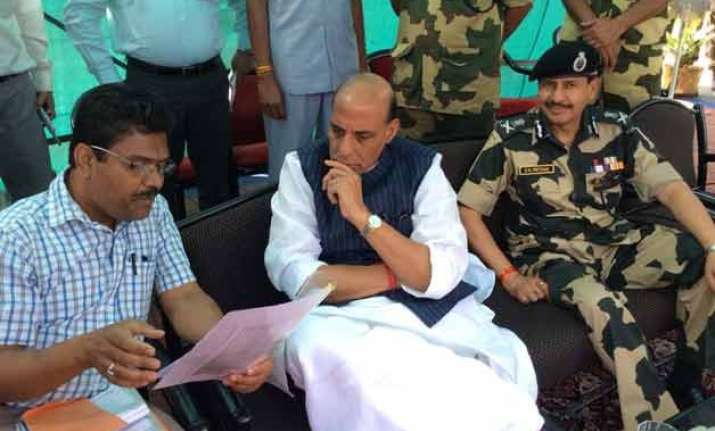 Kolkata: Union Home Minister Rajnath Singh's visit to Bangladeshi enclave on Indo-Bangladesh border has not not gone down well with  the West Bengal Chief Minister Mamata Banerjee. In a series of tweets, Mamata targeted the Home Minister and asked if it is a political visit or an official visit.
In her first tweet, Mamata said, "Today Union Home Minister has visited Chhit-Mahal areas in Coochbehar, along with BJP MPs. Is it official visit or political visit #alerts?"
Mamata Banerjee, who has been at the loggerheads with the Narendra Modi led central government, said that it is customary to inform the concerned state government about any such visit but no discussion or consultation was made with the WB govt. on the matter.
"It is customary to have prior discussion in such cases with State Govt. In a federal str, we must respect each other's jurisdiction #alerts," she tweeted.
"No prior discussion or consultation about the visit was made with us. Chhit-Mahal & law and order fall within the jurisdiction of State Govt," her another tweet read.
Today, Rajnath Singh became the first Indian minister to visit a Bangladeshi enclave in India.
There are a number of Bangladeshi enclaves along the India-Bangladesh border. The living conditions in those areas are at its worst with even basic amenities like water and sanitation missing. Many residents living in the area do not even hold an identity card.
Bangladesh has 51 enclaves in India. All the enclaves are in Cooch Behar district of West Bengal. India has 111 enclaves spread over four districts of Bangladesh along the Cooch Behar border.
"HM is being briefed by a BSF officer at 'Chit Balapukhri' (a Bangladeshi enclave in India) near the India-Bangladesh international border," the Home Minister's office said in a tweet along with photograph on Tuesday.
Social organizations working in the area also met the Home Minister who is on his two day visit to the state.
Later in the day, Rajnath also met Governor Keshrinath Tripathi in Kolkata. Mamata's Trinamool Congress (TMC) questioned BJP's state unit president Rahul Sinha accompanying him on the visit.
Once the land swap deal is implemented, the Indian enclaves in Bangladesh will merge with Bangladesh. Similarly the 51 Bangladeshi enclaves in Cooch Behar will be part of India. The people living in these enclaves will be offered citizenship of the respective country.