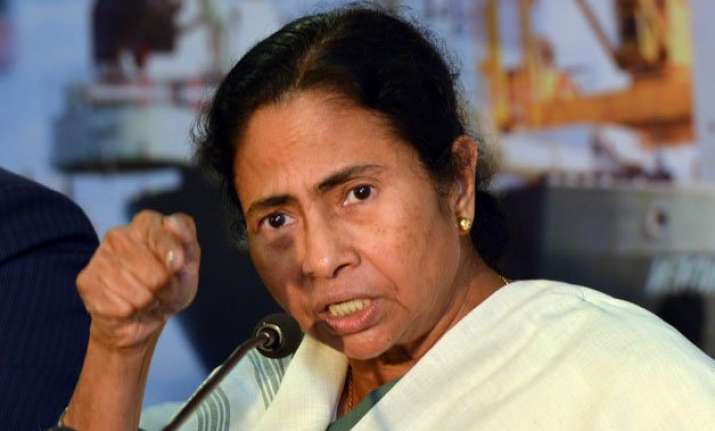 Burdwan: West Bengal Chief Minister Mamata Banerjee on Wednesday criticised the central government for not releasing funds for schemes related to employment, education and roads and asked the banks to set up branches in all panchayats so as to hand over grants and emoluments to beneficiaries.
Banerjee, who was presiding over her 100th district administrative meeting here, reacted after she was informed by one of the bureaucrats that there was problem in carrying forward the Pradhanmantri Gram Sadak Yojana, or the rural roads scheme, as the funds were not forthcoming.
"Our target was to complete 7,000 km of roads. So far we have completed 5,200 km. But we are facign problem as the central government is not releasing the funds," said the official, but hastened to add that a part of the arrears have been released and promise made to send another portion in the coming days.
Banerjee said the central government was withholding funds for several of the schemes.
"Apart from the PMGSY, we are not getting the required funds for Sarva Shiksha Abhiyan and the 100 days rural employment guarantee scheme. So development work is getting stalled," she said.
Banerjee said her government was also facing problems in paying wages for the rural employment scheme as the central government has mandated that the money has to be paid only in bank accounts.
"But many panchayats don't have banks. I appeal to the bankers to set up branches in those areas," she said.
Finance Minister Amit Mitra said the state now has 713 unbanked gram panchayats. "When we came to power, the figure was 1,000," he said.
Banerjee said her government was prepared to provide manpower, land and even office space to the banks to set up their branches.
The chief minister also attacked the opposition for not attending the district administrative meetings
"We had invited the opposition. There was no politics in this. Don't put political colour in everything. Why the opposition have not turned up only they can say," she added.