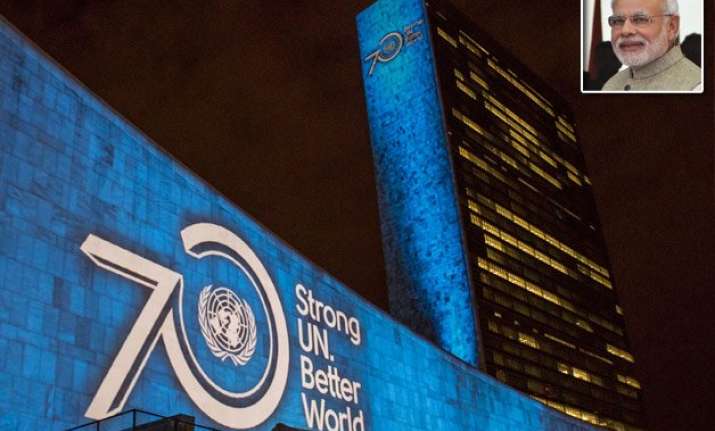 New Delhi: Prime Minister Narendra Modi today greeted people on the occasion of 70th anniversary of United Nations.
The Prime Minister said that the ideals and path shown by Mahatma Gandhi are extremely relevant today and they resonate with the UN charter and ideals.
"Greetings to everyone on UN Day. UN completes 70 years in service of humanity, committed to its goal of making the world a peaceful place," he said in a tweet.
"India is at the forefront of various initiatives of the UN & is committed to doing our best in supporting UN in their endeavours," Modi's another tweet reads.
The Prime Minister informed that in honour of the 70th birthday of the global organisation, the Sabarmati Ashram in Ahmedabad will be illuminated in blue at night.
"On UN day iconic buildings worldwide will be illuminated in blue at night. In India, Sabarmati Ashram in Ahmedabad will be illuminated," he tweeted.  
From the Sydney Opera House in Australia to the Great Pyramids of Giza in Egypt, more than 200 of the world's most iconic landmarks will lit United Nations blue when the sun sets today. Other iconic landmarks to be illuminated include - the statue of Christ the Redeemer in Brazil, Russia's Hermitage Museum, the ancient city of Petra in Jordan, and the Leaning Tower of Pisa in Italy.
The United Nations has its own official shade of light blue, which is used to identify the organisation around the world. UN peacekeepers are unofficially known as blue helmets and blue berets and the colour also forms the background of the UN flag.
The Empire State Building in New York City, the seat of UN Headquarters, will also join the programme to turn UN blue.
UN Day marks the anniversary of the entry into force of the UN charter in 1945. October 24 has been celebrated as United Nations Day since 1948.