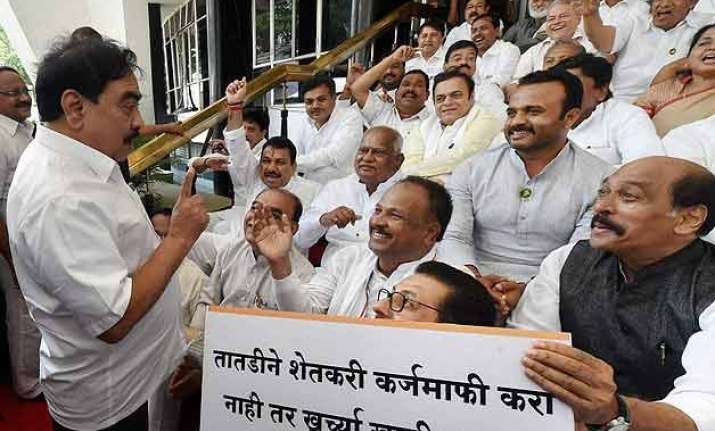 Mumbai: Despite the Maharashtra Government running the Assembly proceedings today following opposition members' boycott, the Congress and NCP said they were firm on their resolve to boycott the session till a loan waiver was announced for debt-ridden farmers.
Leader of Opposition Radhakrishna Vikhe-Patil told reporters that Congress and NCP leaders had conveyed their displeasure to Chief Minister Devendra Fadnavis over the manner in which the government had disregarded their protest.
"When we were in power, did then Speaker Dilip Walse Patil switch off the mike of Leader of Opposition? To this Eknath Khadse, who held LoP's post, replied in negative," Vikhe-Patil said.
He said Congress and NCP leaders will meet tomorrow morning before the day's proceedings begin to chalk out their strategy.
To a query, the leader said the opposition was firm on disrupting the proceedings till a concrete decision is given by the government.
"The chief minister said opposition members should join the debate on farmers issues in the house on the discussion under rule 293 moved by the treasury benches. But, I said there is no point in debate as he had already rejected the demand for loan waiver, to which Fadnavis denied making any statement on the eve of the session in a press conference that loan waiver was not possible," Vikhe-Patil said.
He said the State was facing drought for the third consecutive year and farmers suicides were on the rise.
Till May, 1,150 suicides have been reported. In the last two months, the figure has risen to more than 1500. Compared to this year's figures, 693 farmers had committed suicide between January and May 2014.
Meanwhile, Shiv Sena legislators too met to discuss the party's strategy in the ongoing session. A senior Sena minister said the legislators were asked to participate in the discussion on farmers issues and raise grass-root level problems faced by the farmers vigorously.
"Loan waiver alone will not help. We need to improve the condition of the farmers in which schemes like Jalyukt Shivar scheme will be of immense help," the minister said.
Sena spokesperson and MLC Neelam Gorhe said the ongoing session is meant to discuss and find solutions to farmers problems.
"We have been asked to raise issues concerning the farmers. There is no clarity whether the government will accept the opposition's demand. We have not been authorised to make any statement on the issue. There is no need to create political controversy," she said.