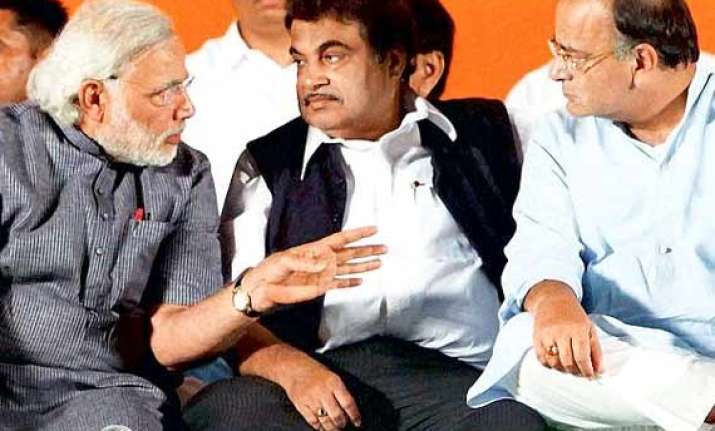 New Delhi: Keeping all its options open for government formation in Maharashtra, BJP on Tuesday indicated that it is in no hurry to decide on whose support it would take while making it clear that it will not blink first in the battle of nerves with estranged ally Shiv Sena.
Ahead of government formation, Union minister and former BJP chief Nitin Gadkari today met finance minister Arun Jaitley at the latter's residence and spent about half an hour with him to discuss the party's strategy ahead.
Gadkari will later leave for Nagpur to hold discussions with the RSS top brass on its options ahead. RSS is keen that the saffron forces should unite but has left it to the BJP to decide.
The proposed meeting of newly-elected party MLAs in Mumbai to elect their leader has also been postponed as home minister Rajnath Singh, who was appointed its observer, will now travel after Diwali.
"I am not going today. I think I will visit Mumbai after Diwali," he told reporters here. Singh was to be accompanied by BJP general secretary J P Nadda to finalise on the leader of the BJP legislature party in Maharashtra.
Jaitley and Gadkari are reported to have discussed the party's choices available for government formation in the state. NCP has already offered unconditional support to the BJP, but the saffron party has not decided on whether to accept it or not.
In the 288-member Maharashtra assembly, BJP has won 123 seats, 22 short of a majority. Sena, which has emerged the second largest, bagged 63 seats. NCP with 41 has already decided to extend outside support to BJP.
BJP may elect its leader and form a government and prove its majority on the floor of the House with a simple majority from the MLAs present with NCP abstaining. This option, party insiders say, will help maintain dignity as it will not have to seek the support of NCP as some of its leaders are facing corruption allegations.
Sources say the party is in no hurry to decide on tying up again with Shiv Sena, which broke the alliance ahead of elections over seat sharing.
Sources add that the party is not ready go give in to Shiv Sena's demands or arm-twisting if they decide to go together for government formation in the state and if this were to happen, it has to be unconditional from the Uddhav Thackeray-led party.
Though there is speculation of a back-channel talk between the two sides, there was no confirmation if such an exercise was on.
Meanwhile, the name of BJP's Maharashtra chief Devendra Fadnavis emerged as the front-runner for the chief minister's post overcoming challenge from other veterans including Eknath Khadse and Vinod Tawde.
Amit Shah's meeting on Monday with Gadkari raised speculation that the Union minister was in the race but it appeared to be ruled out by party insiders.