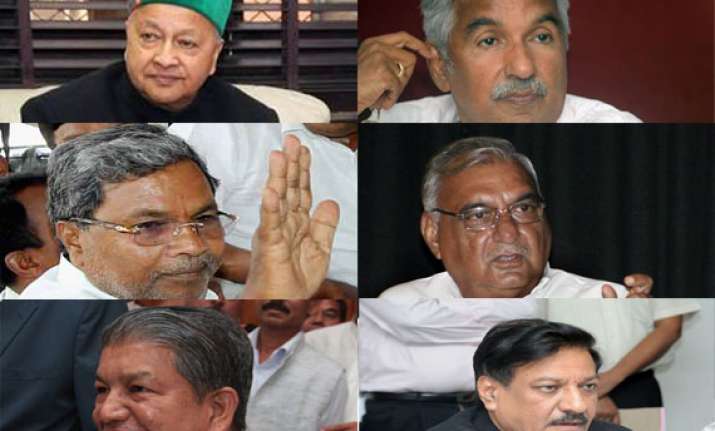 New Delhi: A stern directive have been sent to all Congress chief ministers either to win as many Lok Sabha seats as possible for the party, or face removal, The Hindustan Times reported today quoting a senior party leader.
"The message was conveyed last month. Rival groups in many states are working against their chief ministers. The chief ministers have been told in clear terms that their survival depends on the performance of the party in the LS elections, and they should pull up their socks", the newspaper quoted the leader as saying.
Facing the challenge are Maharashtra chief minister Prithviraj Chavan, Kerala CM Oommen Chandy, Karnataka CM Siddaramaiah, Haryana CM Bhupinder Singh Hooda, Assam CM Tarun Gogoi, Himachal Pradesh CM Virbhadra Singh, and Uttarakhand CM Harish Rawat.
Some Congressmen from different states have been coming to Delhi complaining about their chief ministers.
The report said Siddaramaiah is confident of repeating last year's performance in Karnataka by winning at least 20 out of the total 28 seats, but his pitch has been queered by Yeddyurappa's return to the BJP.
Prithviraj Chavan has to ensure that the Congress does not slip below its 2009 tally of 17 LS seats from Maharashtra.
Similarly, Oomen Chandy may face the axe if the Congress loses in Kerala.
Haryana CM Bhupinder Singh Hooda has to win seats for the Congress, otherwise he may have to make way for another to lead the party in the state assembly polls due in October.
Uttarakhand CM Harish Rawat, facing opposition from supporters of Vijay Bahuguna and former party leader Satpal Maharaj, will have to prove that he can win all the 5 LS seats for the party.
Himachal Pradesh CM Virbhadra Singh, already facing charges of corruption, will also have to prove that he can win the seats for his party.