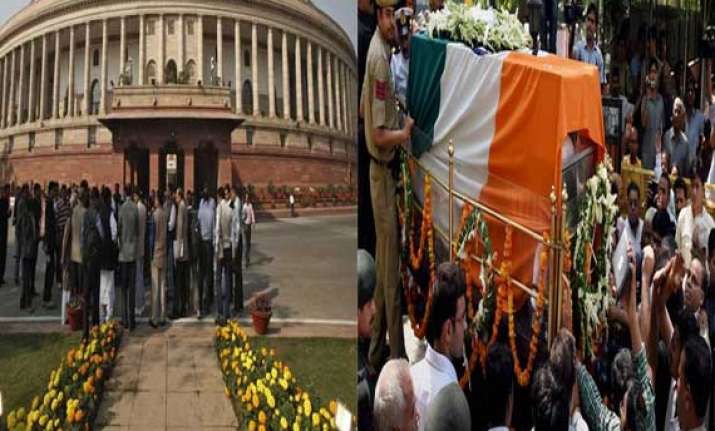 New Delhi: Union Rural Development Minister Gopinath Munde's sudden and unfortunate death in a road accident in the capital on Tuesday has cast a shadow on the inaugural session of the 16th Lok Sabha.
The first sitting of the 16th Lok Sabha on Wednesday will be adjourned for the day after paying tributes to the leader who died in a road mishap on Tuesday.
Senior Congress MP Kamal Nath will be the Protem Speaker who will preside over the proceedings of the House till the election of the Speaker on June 6.
The newly-elected members of the Lok Sabha will now be sworn in on Thursday. The election of the Speaker will take place on Friday, as had been initially decided.
The first session of the next Lok Sabha was to begin on June 4 and end on June 11. Two days had been set aside for swearing in of the new members. President Pranab Mukherjee's address to a joint session of Parliament has been fixed for Monday.
The Union Cabinet, which met at 4 pm in the Prime Minister's South Block office on Tuesday, passed a resolution condoling the death of one of their colleagues.
As a mark of respect to Munde, Prime Minister deferred his meeting with secretaries of all ministries and departments.
The government also decided to observe national mourning on Tuesday. The tri-colour, or the national, flag was flying at half-mast on all buildings housing government offices in the capital, all state capitals and union territories.
The flag will also be flown at half-mast during Munde's funeral in his ancestral village, Parli, today. His body will be cremated with full state honours.
Former deputy prime minister L K Advani, BJP president and union home minister Rajnath Singh and his cabinet colleague Nitin Gadkari will be present during the funeral.