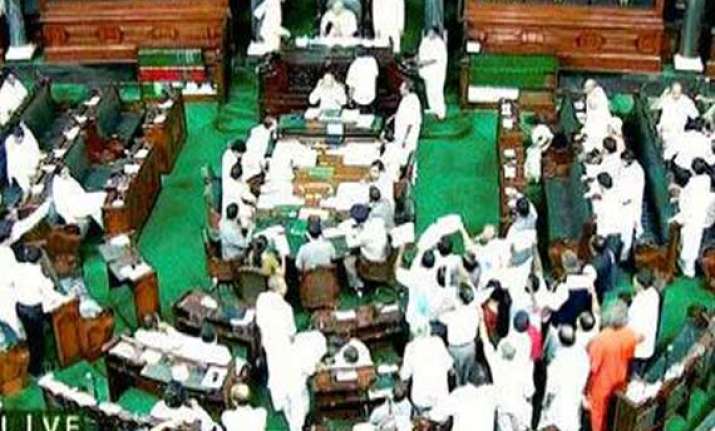 New Delhi: Lok Sabha today looked like a virtual battleground during the consideration of the
controversial Telangana Bill with Congress members seen protecting Home Minister Sushilkumar Shinde and other top leaders from protesting members.
It also saw CPI(M) and Trinamool Congress as strange bedfellows as the two arch detractors in West Bengal politics were seen opposing the creation of Telangana, apparently with the concerns of demand for Gorkhaland in mind.
To avoid any pepper-spray type situation, Congress MPs like Aaron Rashid, Lal Singh, Bhakta Charan Das, Hamdullah Syed, Mahabal Mishra and others formed a cordon around the front rows of the treasury benches where UPA Chairperson Sonia Gandhi and the Home Minister were seated when the Bill was taken up for consideration and passing.
However, Rashid and Singh, as well as a Left member were later seen distributing lozenges to the slogan-shouting MPs in the Well to help them soothe their throats.
An emotional Congress MP Ponnam Prabhakar touched the feet of Congress President Sonia Gandhi, shortly before the Lok Sabha adopted the controversial bill to create a separate Telangana.