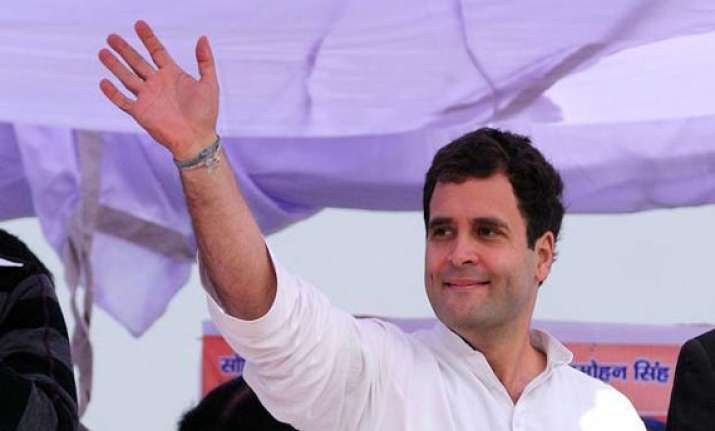 New Delhi: Attributing Congress' poor show in Delhi Assembly polls to losing touch with common people, Congress leader Rahul Gandhi today said the party has deeply understood this and promised to include people from the grass-root in the party after Lok Sabha polls. 
Speaking at a gathering of around 15,000 people in Ambedkar Nagar here in South Delhi, Rahul said, "For the last 15 years there was a Congress government in Delhi. Lot of developmental work was done... but even after that Congress lost in the Assembly polls.
"Residents of Delhi gave a message to Congress that do developmental work, but the old relationship with people where doors of Congress were remained opened should not be closed." It was the same venue where Rahul had addressed an election rally during Assembly polls in Delhi where thin attendance of people had made news.
The party leaders were cautious this time not to allow such a scenario to repeat.  Last time when Rahul had begun to speak the crowd had started dispersing, an incident which had invited ridicule and sarcasms from the opposition parties as the then Delhi Chief Minister Sheila Dikshit, who was sharing the dais with Rahul, was recorded on camera asking people not to leave the ground. 
While promising to include common man in the party, Rahul said, "If those doors are not opened, Congress will face troubles. You told us this thing. I want to tell people that we have deeply understood this."
"After election we will bring about changes in party structure in Delhi. We will make party a party of common man and poor. We will include the common people in the new structure. We made a mistake and people of Delhi suffered due to this," he added.
Launching a scathing attack on AAP-led Delhi government, Rahul said the party made lofty promises to people, but later "ran away", leaving people of Delhi in a lurch.
"It is easy to make false promises. They (AAP) gave budget for electricity subsidy for only three months, but there are 12 months in a year, five years in a term.  "Budgets are not given for three months but for a year.  The truth is that the people who were running the government have now run away. Some are seen in Varanasi, some in other places," the Congress Vice President said. 
Justifying the Congress' decision to support AAP, Rahul said, "The opposition party came into power and we supported it. We thought they are the voice of people. They were new people and people had given call to them so we thought that our party should support them."
"They made many lofty promises about electricity, water and regularisation. But did they fulfil their promises? Did they regularise contractual workers, safai karamcharis?  Workers had sat on dharna, but AAP leaders did not meet them." he added.