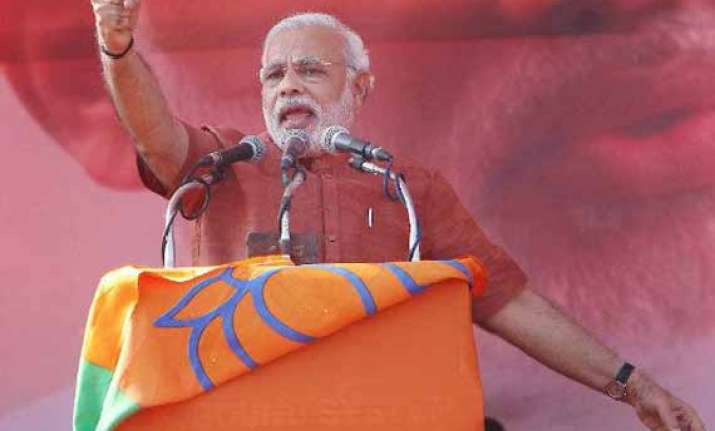 Vaishali(Ghaziabad): Gujarat Chief minister and BJP's PM candidate Narendra Modi today said that it's time for EC to take suo motu action against Congress president Sonia Gandhi even after she made a rank communal appeal to the electorate.
Addressing an election rally at Vaishai in Ghaziabad, Modi indirectly referred to Sonia gandhi's meeting with Delhi's Shahi Imam and said "The Congress which is at the brink of defeat has started speaking the language that smacks of  rank communalism. I want EC to take suo-motto action against Sonia Gandhi for issuing rank communal statement to get votes," said Modi.
"Today Congress is trying to communalise the elections. They are worried as to why there are no communal smell coming out of Modi rallies. I am talking about problems that the nation is facing. They are busy finding solutions to Modi," added Modi.
Modi cautioned the electorate that they should not fall in the Congress trap as they are now working overtime for a fractured mandate in upcoming parliamentary elections.
Addressing an election rally at Vaishai in Ghaziabad, Modi said, "Please tell me if you want a weak government in Delhi? Let there be a decisive mandate this time. Now they are playing new games. Now they are praying for fractured mandate. Why because they know they are going to lose. They just want to ensure that we also sink them. Please strive for making a government with more than 300 MPs. UP is going to have a big say in forming the next Government of India. We need maximum Lotuses from UP."