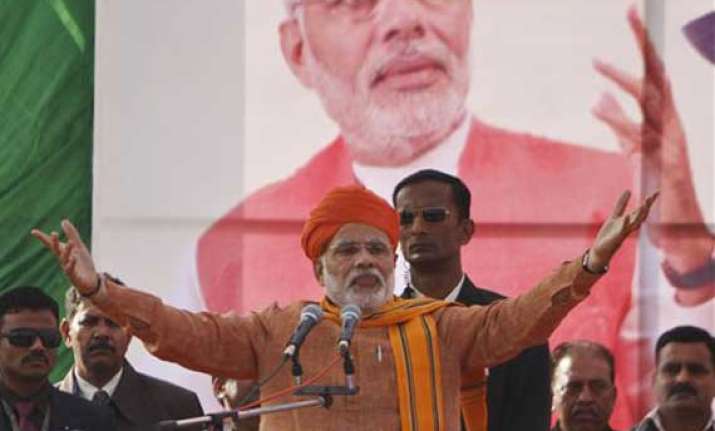 Varanasi:  In an indirect reference to BJP's pet issue of 'Ram Temple', Gujarat Chief Minister and BJP's prime ministerial candidate Narendra Modi today exhorted people of Uttar Pradesh to bring 'Ram Rajya' in the state.
Addressing a public meeting in Varanasi, the BJP Prime Ministerial candidate said if the people want they can see the return of 'Ram rajya' which started from this land by voting for the right party.
"I have faith in the people of Uttar Pradesh. Your ancestors had established Ram rajya. Had the people not been empowered, there would never have been Ram rajya here. The state has all that is needed for Ram rajya. The strength, tradition and will needed for establishing Ram rajya is there in you," Modi said.
"If still there are problems here it is because you have not chosen the right government. I have full faith that the day you do so, this (Ram rajya) can become a reality," he added.
Modi raised emotive issues, including the cleaning of the holy Ganga—referring to the river as "maa", creating employment for locals involved in the handloom sector, farmer issues and employment opportunities for the youth and the poor.
He said his government in Gujarat had cleaned up the Sabarmati river, which used to be highly polluted a decade back, with the clean water of Narmada and asked why the same could not be done with river Ganga.
Modi also hit out at Congress and the Nehru-Gandhi family, blaming them for poverty, unemployment and corruption plaguing the country.
Hitting back at Prime Minister Manmohan Singh over his charge that some parties make promises that lie outside the realm of possibility, Modi said he does not make empty promises and the BJP is going to the people with firmly grounded intentions.