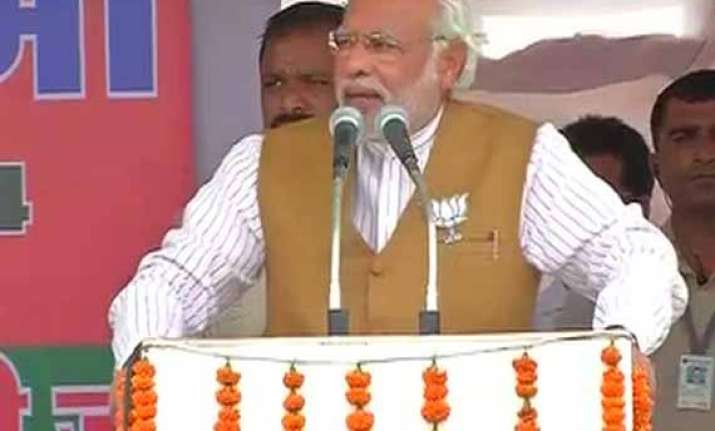 Surguja (Chhattisgarh): Gujarat Chief Minister and BJP's prime minister candidate Narendra Modi today ridiculed Congress president Sonia Gandhi for pleading with people of Amethi to  take care of her son Rahul Gandhi.
Addressing an election rally in Surguja  of Chhattisgarh, Modi wondered if Rahul can't take of Amethi, how will he run the nation.
"Yesterday, Sonia Ji told people of Amethi that Indira ji had offered Amethi to her son and now I'm giving Amethi to my son and please take care of him. On the other hand she says that he will run the nation. The question is that the son who can't take care of Amethi, how will he run  the nation?" asked Modi.
Modi also referred to the book released by Sanjay Baru,former media advisor of PM, and said that the book has revealed that it's a Mother-Son (Maa-Beta) government in Delhi.
"The book written by a former employee of PMO reveals that it's a 'Mother-Son' (Maa-Beta) govt in Delhi. For the first time, PMO did a press conference to inform that PM spoke 1100 times in last 10 years. I'm really surprised. The PM's performance in last 10 years is that he spoke for 1100 times. Who will save this nation with these people in power? The nation can't be saved with these people," added Modi.