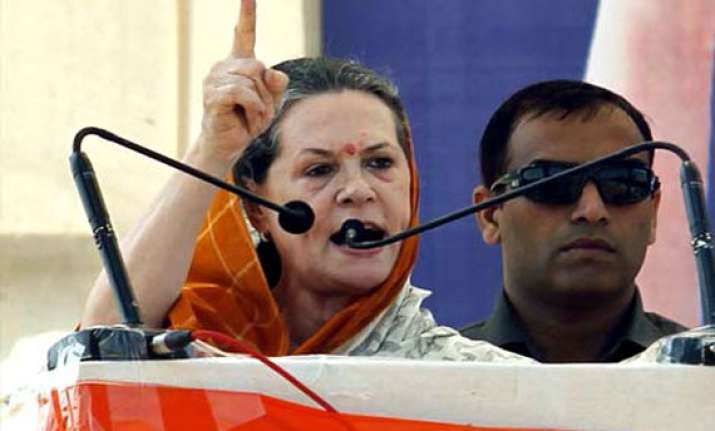 Mewat (Haryana): In a veiled reference to Narendra Modi, Congress President Sonia Gandhi today said the BJP's only goal is to grab the Prime Minister's chair for which it was "misleading people" and shedding crocodile tears.
Gandhi also said that the upcoming Lok Sabha elections is not just about development of the country, adding the Congress is fighting for safeguarding the secular values enshrined in the Constitution.
"They (BJP) have only one target—that is the PM chair and for that they are misleading people," Gandhi said, firing a fresh salvo at the BJP Prime Ministerial candidate.
"These days BJP leaders are changing their disguise and shedding crocodile tears," she told a rally here.  Noting the Lok Sabha polls is not only about the development of country, Gandhi said it is to safeguard the constitutional framework which "our freedom fighters, our forefathers have bestowed on us after much struggle and sufferings."
"This Constitution recognises our secular values and teaches us how to respect them," she said.  Gandhi went on to say that Congress will fight for a country which is not just for a few but a country which belongs to everyone and where everyone enjoys equal rights.  
"We will fight for a country where it is not important what is our religion, language, place of birth or in which caste we were born, but we will fight for a country which is secular and where it is important that we all are Indian," she said.