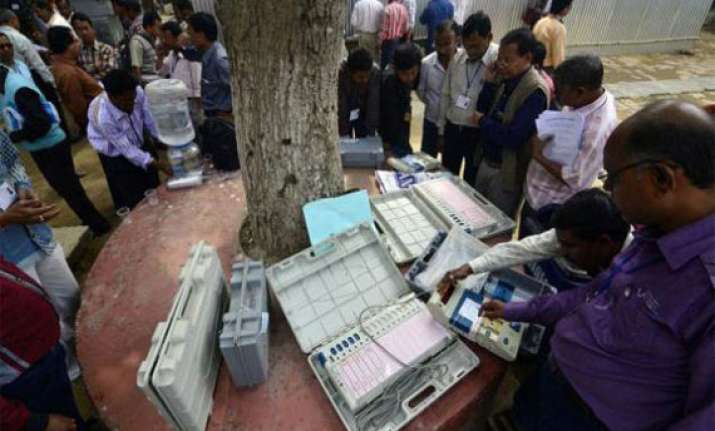 Agartala, Feb 28: Tripura's ruling Left Front Thursday stormed back to power in Tripura for the fifth straight term, delivering a humiliating blow to the Congress.
The Left Front led by the Communist Party of India-Marxist (CPI-M) also increased its vote share compared to 2008, election officials said.
The Congress and its allies, the Indigenous Nationalist Party of Tripura (INPT) and the Nationalist Conference of Tripura were crushed, for the fifth consecutive time since 1993.
The CPI-M on its own won 32 seats of the total 44 results declared so far in the 60-member assembly and was leading in nine more seats.
Its allies, the Revolutionary Socialist Party (RSP) and the Communist Party of India (CPI), won one seat each. The CPI lost a seat.
The Congress managed got 10 seats and was leading in one more. The INPT was leading in one constituency.
Chief Minister Manik Sarkar, 64, who has ruled Tripura since 1998, won from Dhanpur by a margin of around 5,000 votes. It was Sarkar's sixth win.
Finance Minister Badal Chowdhury posted the highest winning margin of 12,450 votes.
Commerce Minister Jitendra Chowdhury, School Education Minister Tapan Chakraborty, Information Minister Anil Sarkar, Tribal Welfare Minister Aghore Debbarma and all cabinet colleagues retained their seats by huge margins.
Teacher-turned-politician Anil Sarkar, 75, who is also a poet and writer, was re-elected on CPI-M ticket from Pratapgarh in western Tripura for a record ninth time.
Congress leader Ratan Lal Nath was also re-elected from Mohanpur while state Congress president Sudip Roy Barman retained his Agartala seat -- for the fourth time.
Former Tripura assembly speaker Jitendra Sarkar, who this time contested on Congress ticket, wrested Barjala seat from the CPI-M. Sarkar won by 254 votes defeating Jitendra Das.
In a significant development, CPI-M's Ratan Das wrested Ramnagar after a gap of 25 years. He defeated former state Congress chief and ex-minister Surajit Datta by just 15 votes.
"This is a great victory for the Left Front and shows its popularity and public support. Good governance is one of the key factors for the thumping victory," gloated CPI-M spokesperson Gautam Das.
"People voted for the Left to establish peace and development in all sectors," Das told IANS.
Former chief minister and Congress leader Samir Ranjan Barma and INPT president and former militant leader Bijoy Kumar Hrangkhawl were trailing.
Tripura made electoral history when a record 93.57 percent of the 2.3 million voters exercised their franchise Feb 14 to pick a 60-seat assembly. There were 249 candidates.
The Left Front has ruled Tripura since 1978 barring one term (1988-93).
In 2008, the Left registered a thumping victory. The CPI-M alone won 46 seats and partners CPI and RSP secured one and two seats respectively. The Congress bagged 10 seats and the INPT one.
Final party position in Tripura:Total seats:
60
CPI-M:
49
CPI:
1
Congress:
10