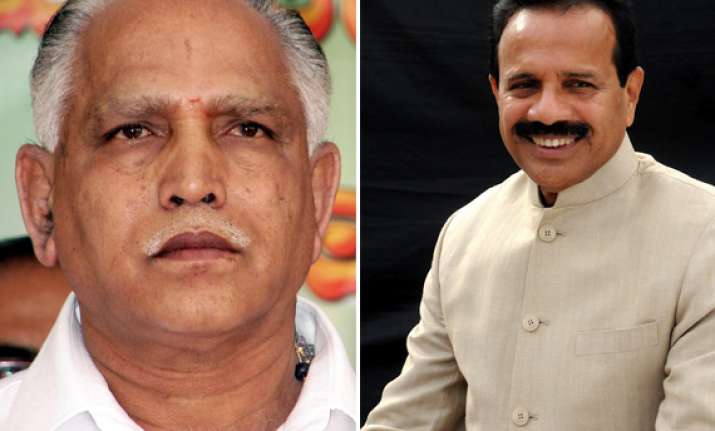 Bangalore, June 28:  The BJP government in Karnataka today sought to showcase achievements of its four-year rule even as speculation persisted over change of leadership of Chief Minister D V Sadananda Gowda.
Gowda advanced his press conference by a couple of hours today and postponed a scheduled dinner for the media tonight as he planned a sudden visit to Delhi to meet the party's central leaders in the wake of a renewed bid by the B S Yeddyurappa faction seeking his scalp.
Asked about his Delhi visit, he said: "As a Chief Minister, going to Delhi can't be questioned by anybody. At present I have got certain works in Delhi. So I need to go there".
He also dismissed reports of change of leadership, saying there had been "speculation" ever since the party came to power in the State. "It (speculation) continues".
But minutes later, the Chief Minister cancelled the trip after the high-command let it be known that there is no need for him to come to the capital, party sources said.
The Yeddyurappa faction is propping up the candidature ofRural Development and Panchayat Raj Minister Jagadish Shettar to replace Gowda, even as there are reports that state unit President K S Eshwarappa and senior party leader H N Ananth Kumar are also in the race.
A section of the MLAs is also strongly backing Gowda, warning that replacing him would lead to their resignation and collapse of the Government.
The Chief Minister released a book titled "Four Years of All Embracing Development" at the press conference, where he spoke about the performance of various departments since 2008.
"The achievements of our Government are all embracing.  For the first time in the State, a budget exceeding total size of Rs one lakh crore has been presented. Around two crore people have received direct benefits under one scheme or other", Gowda said.
He said the State's finances are sound. "We have shown good progress despite global economic setback".
Gowda said the "Sakala" scheme that provided government services to citizens in a time-bound manner would be extended to all departments, including the Secretariat.
Right now, 151 services coming under 11 departments are covered under the scheme, which came into effect on April two this year, being positioned as the BJP government's flagship programme.
He said a new youth policy is proposed to be unveiled on July 25.
Meanwhile, ministers and MLAs loyal to Yeddyurappa met at the residence of Shettar to take stock of the developments and debated on their future course.