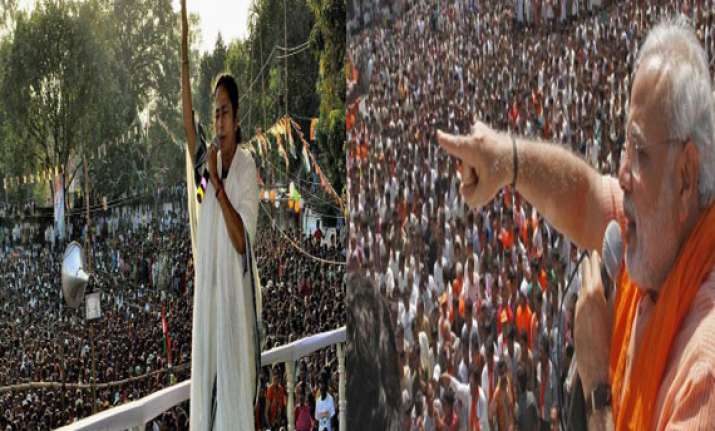 Durgapur (West Bengal): West Bengal Chief Minister Mamata Banerjee  on Saturday emphasised she will remain in state politics and dismissed as 'politics of drama' Narendra Modi's suggestion that she could realise her dream of West Bengal's progress if there was a BJP-led government at the Centre.
Taking a dig at the BJP Prime Ministerial candidate's recent interaction with people at tea shops, Banerjee said that unlike the saffron party her party 'did not enact drama during election time'.
"We do this (interaction) throughout 365 days to get information about the problems of the people," she said while addressing a party convention here.
Claiming that unlike BJP, her party was always close to the people, the Trinamool Congress (TMC) supremo said "I do not believe in that kind of politics. It is fragile politics. This is the biggest opportunistic politics by those who do this at the time of election."
Stating that Bengal would show the way to India in coming days and vowing to take the TMC to the national scene post-Lok Sabha election, she said she would continue to work for the development of the state though the Centre was economically depriving it by not giving funds.
"I will remain in Bengal. I am not going from Bengal. Do not worry," she said.
Banerjee's comment came days after Magsaysay winning writer Mahasweta Devi and Muslim cleric Moulana Barkati, the Shahi Imam of Tipu Sultan Mosque recently said that they wished to see her as the Prime Minister.