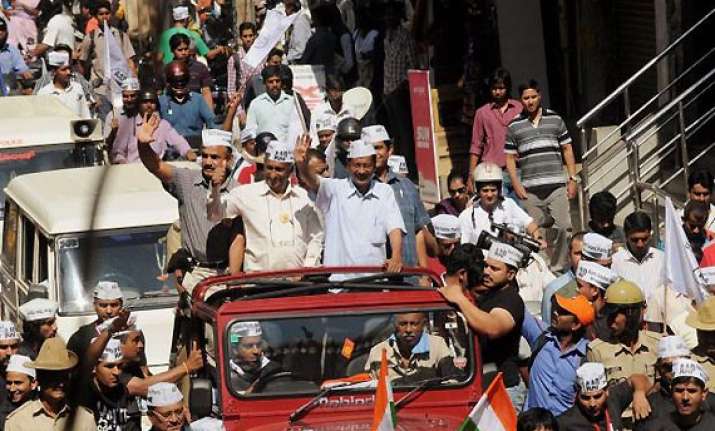 Bangalore: Coming out with his guns blazing against Narendra Modi, AAP leader Arvind Kejriwal today declared he was ready to take on BJP's prime ministerial candidate from Varanasi but linked his final call to the people's approval there.
Accepting the challenge for a face-off with Modi, a combative Kejriwal said AAP wanted him to contest against him but he would hold a rally at Varanasi on March 23 and would go by people's response, indicating a final decision hinged on it.
"I will go to Varanasi on March 23. We will have a rally in Varanasi. Whatever people of Varanasi will say that will be final. If people of Varanasi decide to give me this responsibility, I will accept it wholeheartedly," the AAP leader told a rally, as his supporters cheered him lustily.
Kejriwal's announcement, still with a tinge of suspense, came a day after the BJP top bass announced the name of Modi for Varanasi, where a set party veteran Murli Manohar Joshi has yielded to the Gujarat strongman after days of reported hard bargaining.
"I have not come here for victory or defeat. We have come here for struggle. I accept this challenge," said Kejriwal, as he wound up his two-day visit to Karnataka, where AAP is aiming big contesting all the 28 Lok Sabha seats.