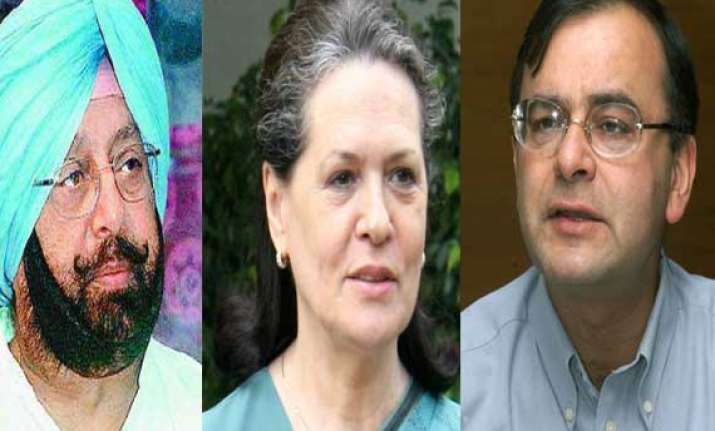 Chandigarh: Congress leader Amarinder Singh today lashed out at BJP leader Arun Jaitley for raking up the issue of Sonia Gandhi's origin and reminded him of Indian tradition where daughter-in-law is the "real inheritor" of the family legacy.
"I always thought Jaitley was a gentleman, but I am sorry to read about his shameless attempts to question the statehood of Gandhi when she had nothing to do about what I had said yesterday in a newspaper interview about Mr Jaitley," the former Chief Minister said in a statement.
"But let me remind Jaitley of our great Indian culture and tradition which accepts the daughters-in-law as the real inheritors of the house and not the daughters irrespective of which place they come from," the Congress candidate from Amritsar said while hitting back at Jaitley.
"Sonia Gandhi was married to late Shri Rajiv Gandhi 45 years ago and she obviously belongs to UP and India," Singh said.
"Every time you (BJP) have tried to rake up this issue (Sonia's origin issue) you have badly lost as people of the country have repeatedly rejected your chauvinistic and xenophobic rabble rousing," he said.
Hitting out at Singh for calling him an "outsider" in Amritsar, Jaitley said, "Despite my ancestral roots in Punjab, Captain Sahib (Amarider) called me an 'outsider' and a 'pseudo' Punjabi. Will he be kind enough to tell me which state in India does (Congress President) Mrs Sonia Gandhi belong to?
"Regrettably, he is resorting to his old USP -- lower the level of debate through personalised and discourteous language.... I have to resist the temptation of reciprocating in the same manner. However, a polite response is necessary," Jaitley wrote on his website.
Reacting to the remarks, Singh said it is too obvious as to who is lowering the level of debate by desperately trying to drag someone who has nothing to do in an argument.