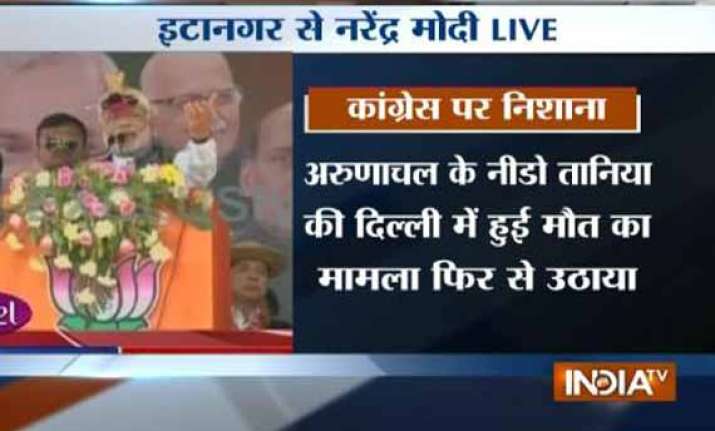 Itanagar: Gujarat Chief Minister and BJP's PM candidate today targeted Congress party for allowing the Italian marines to leave Delhi after they killed Indian fishermen.
Addressing an election meeting in Itanagar, Modi said, When Italian marines killed our fishermen, who allowed the marines to leave Delhi? Who gave them that opportunity? It was Hon'ble SC who got involved. Had it not asked for answers then the marines wouldn't have returned."
Modi reminded Sonia Gandhi that he did not need any certificate from her on patriotism.
"Madam Sonia says some people are taking about patriotism but do we have to go to Madam Sonia to learn about patriotism. Please don't question Desh bhakti of people. We don't need certificates from you," said Modi.
"We need to make India free from misrule of the Congress. Gandhi ji had called for disbanding the Congress after freedom. But Congress didn't listen to  Bapu. We will fulfil Bapu's dream. Sadly Congress lacks any shame. A boy from here was killed. When Madam Sonia came to Northeast did she say a word on this?" added Modi.
After this rally, Modi will be addressing these rallies in Assam at Sivsagar, Biswanath Chariali and  Gogamukh.
Here we are giving you live updates of Modi's rallies: