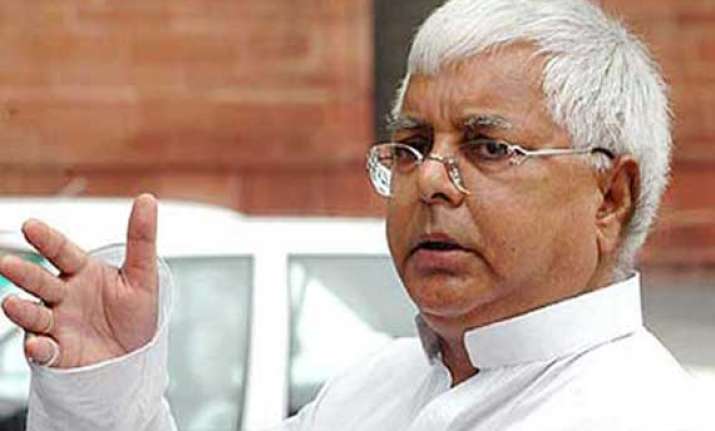 Patna:  Sticking to his offer of 11 Lok Sabha seats to Congress and one to NCP, RJD supremo Lalu Prasad today appealed to Sonia Gandhi to agree to the seat-sharing formula asserting that he would deliver results in Bihar and Jharkhand in the general elections.
"Through you (media), I appeal to the Congress President Sonia Gandhi, to agree to 12 seats being offered to the Congress and NCP in Bihar, and leave it to me to deliver the results in Bihar and Jharkhand in the general elections," he told reporters here.
Lalu was briefing media after nearly two-hour meeting of the RJD parliamentary board meeting at former Bihar chief minister Rabri Devi's official residence here.  "I have no feeling of disrespect toward Sonia Gandhi," he said, appealing to her to ink an alliance with his party.
 "I promise to you I will stop the communal forces from coming to power at the Centre," Lalu said.  Deefending the 12-seat offer, the RJD supremo argued that he had to accommodate his party leaders and workers who too wanted to contest the elections.
Lalu, in a veiled threat to the Congress, in the eventuality of it not concurring to the proposals, said, "It is not my responsibility alone to stop the communal forces...  others too should be accommodating."
Prasad said that he went by winnability of the candidates before arriving at his formula for the seat sharing with the Congress and the NCP and this idea should be accepted by the allies too.
"Merely contesting the polls should not be the motto, but winnability should also be given due consideration," the RJD supremo said, adding that the allies should also ensure transfer of votes to the winning candidates among them.  He lashed out at local Congress leaders for misguiding the party leadership, including Sonia Gandhi, against alliance with RJD in Bihar and appealed to Congress' national leaders to read through the designs of local leaders and convince the party.